VMware vSphere is an industry-leading virtualization platform which is used 80% of datacenter around the world. VMware's virtualization has made X86 server revolution and maximizes hardware savings through higher capacity utilization and consolidation ratios. This article will walk through about VMware Licensing, prizing and version upgrade entitlements.
VMware Claims,
On average, customers see tremendous benefits beyond using vSphere alone: 36 percent reduction in application downtime, 30 percent increase in hardware savings, and 26 percent decrease in time spent on troubleshooting issues.
VMware vSphere has many virtual components and it's very difficult to troubleshoot when it comes to performance issues without operation manager. VMware vRealize Operations works proactively,  ensures high availability and improves efficiency. It has enough intelligence to locate the issues and resource bottleneck in VMware infrastructure.  So VMware combines two components vSphere and VMware vRealize Operations Standard into a single product with a single license. There is no way to decouple these products and cannot be upgraded independently too.
Pros on  VMware Licensing Model: (vSphere with Operations Management 6.)
There are no restrictions on physical cores or physical Memory
There are no restrictions on the number of virtual machines that can run on each properly licensed.
Two in one. (VMware vSphere + vRealize Operations  Standard)
vSphere customers with an active SnS contract are entitled to version upgrade to vSphere 6.0 at no extra charge from 4.x & 5.x.
Cons of VMware Licensing Model: 
vSphere 6 is licensed on a per-physical processor basis, not per server.
VMware vSphere with Operations Management Editions: 
Standard Edition
Enterprise Edition
Enterprise Plus Edition
VMware vSphere Editions: 
Standard Edition
Enterprise Edition
Enterprise Plus Edition
The following table provides the difference between various edition that VMware offers. (with/ without Operation Management bundle)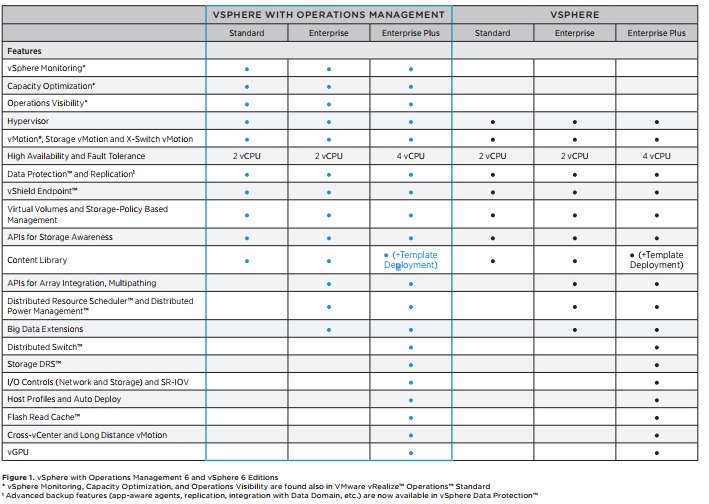 Source: VMware
VMware vSphere Essentials Kits: 
VMware vSphere Essentials kits target smaller environments (up to three hosts with 2 CPU on each = 6 processor license).  VMware vSphere Essentials kits have two editions.
VMware vSphere Essentials
VMware vSphere Essentials Plus.
Here is the quick comparison between these editions along with VMware vSphere with Operation Management editions.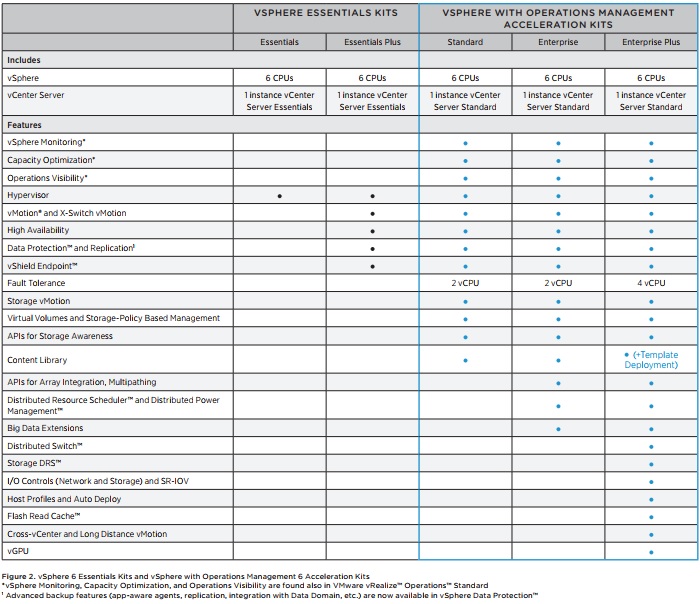 Source: VMware
Miscelenous:
vCenter Server is available in the following packages:
vCENTER Server
Essentials
Standard
Number of hosts
Up to 3
Unlimited
vSphere licensed managed
vSphere Essentials
vSphere Essentials Plus
vSphere Standard,
vSphere Enterprise,
vSphere Enterprise Plus,
vSphere with Operations
Management, and
vCloud Suite
VMware Hypervisor (ESXi ) is free? 
Yes. VMware hypervisor ESXi is free to use and there is no limitation associated with physical server. But the only limitation is that virtual machine can't have more than 8vCPUs associated with it.
VMware vSphere Version Upgrade: 
Here is the VMware vSphere version upgrade path. VMware is not charing anything if you upgrade from VMware vSphere 4.x , 5.x to 6.x if you have a active subscription assosiated with it.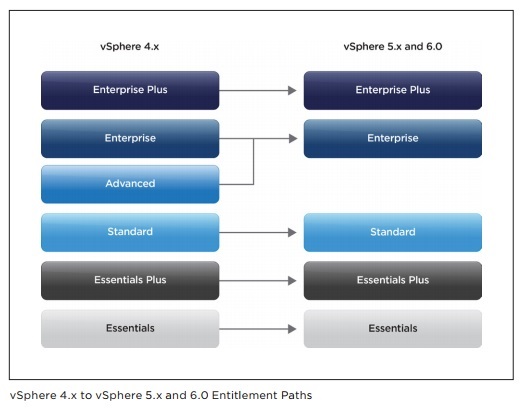 Hope this article is informative to you . Share it ! Commet it !! Be Sociable !!!