Storage Industry haven't changed much prior to the Hypervisor's  revolution.  But in last few years, the industry is facing heavy competition from new vendor's innovation ideas, Quality of the product , seamless support and cost. SolidFire  is one of the storage vendors who is re-writing the fundamental of SAN boxes. The traditional SAN arrays will consists spinning disks with various speeds and some amount of Flash devices for cache. But SolidFire produces the SAN boxes only with Flash Array's and it says "Good Bye" to spinning disks. Using SolidFire , customers can achieve linear scale of both capacity and performance without downtime or performance impact.
Since physical machine can host multiple virtual machine,  the amount of required IOPS also increased rapidly. VMware's storage vMotion feature a simple example which use to double the IO's frequently. The SolidFire storage is just built for most demanding OpenStack , Cloud environments.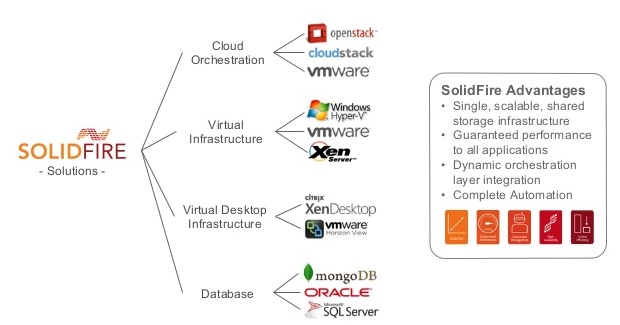 Deliver guaranteed performance to all OpenStack volumes

Dramatically decrease time to market with rapid configuration

Configure the SolidFire Cinder driver in under 60 seconds

Achieve a complete OpenStack cloud configuration in 90 minutes with SolidFire's Agile Infrastructure

Increase automation and end user self-service with a complete set of REST-based APIs

Expand capacity and performance resource pools non-disruptively through SolidFire's linear scale-out architecture

Future proof and protect your cloud storage investment with SolidFire's FlashForward compatibility guarantee.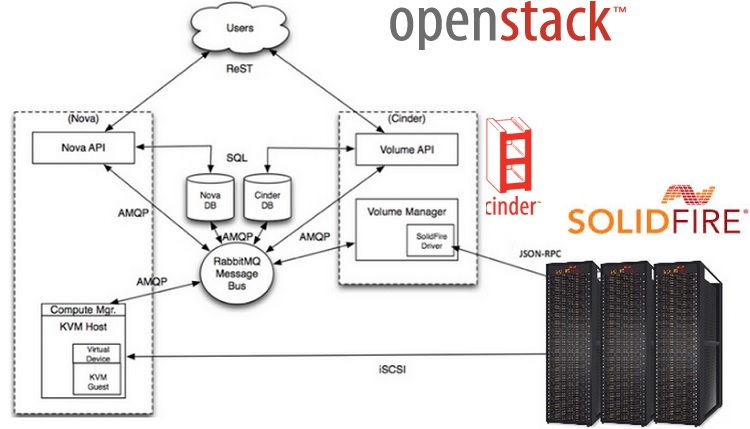 Read more about SolidFire on Openstack.
SolidFire for CloudStack:
Like openstack , Cloudstack also an opensource cloud software which is developed by Apache Software Foundation  (ASF).  Initial cloudstack project has been developed by cloud.com then sold to Citirx. Citrix donated cloudstack to Apache Software foundation to make the project as 100% open source. At present Citrix is main contributor  to cloudstack.
SolidFire has dedicated resources that drive real contributions to the CloudStack community. They strive to deliver the industry's most comprehensive storage integration for CloudStack. SolidFire has already validated multi-hypervisor support within CloudStack while continually pushing to expand the supported use cases for the combined solution. Going forward, we are focused on driving continued improvements into the CloudStack storage architecture to ensure it can exploit the most advanced, next-generation storage functionality.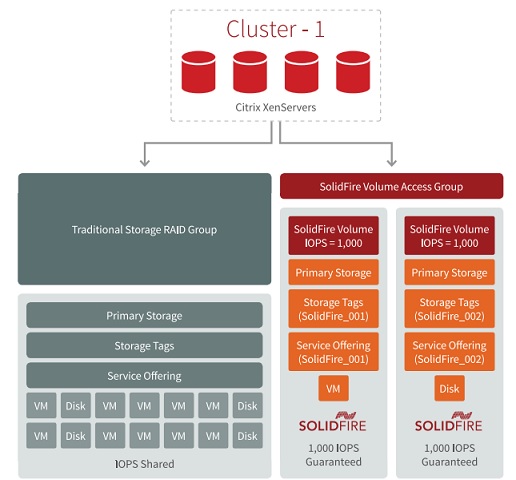 Do not forget to check out Openstack beginners guide.
Hope this article is informative to you.