This article is going to demonstrates deployment of Vembu BDR  Backup Server on Window server 2012. Vembu BDR Backup server  installation is very simple and quick.  Vembu BDR Backup Server and OffsiteDR Server can be installed on physical or virtual machines  depends on size of the environment. Small business may use virtual machine for Vembu BDR backup server and OffsiteDR server but  physical machine for Vembu BDR backup server and OffsiteDR server to get instant boot feature.
Instant VM recovery

Restore processes

VembuHIVE File System

Backup storage management, compression/encryption and 4-tier verification

Every backup related information is stored and formatted using MySQL and MongoDB
                              BDR Backup Server – System Requirements 

OS

Microsoft Windows Server 2012 R2

Microsoft Windows Server 2008 R2

Microsoft Windows Server 2012

Linux Ubuntu LTS 12.04

Linux Ubuntu LTS 14.04

Instant Boot Infrastructure

VMware vSphere

Microsoft Hyper-V

KVM Hypervisor

Memory

8 GB

CPU

Quad Core Xenon Processor

Meta Data Storage

10% of the planned total backup data size

Network Card

1 Gbps & above

Browser

IE v11

Firefox v28 & above

Chrome v34 & above
Supported Platforms:
     Virtual Infrastructure

       Version

Platform

VMware vSphere 6.0

VMware vSphere 5.x

VMware vSphere 4.x

Hypervisor

ESX(i) 6.0

ESX(i) 5.x

ESX(i) 4.x

Management Server

vCenter Server 6.0

vCenter Server 5.x

vCenter Server 4.x
Virtual Machine Specification and Requirement
| | |
| --- | --- |
| VM Specification |                                                 Requirement |
| Virtual Hardware | Virtual hardware of all types and versions are supported, which includes support to virtual disks larger than 2 TB. (i.e) Support extends upto recent addition- 62TB VMDK. VMware does not support snapshotting VMs with disks engaged in SCSI bus sharing; Such VMs are not supported by Vembu VMBackup.RDM virtual disks in physical mode, Independent disks, and disks connected via in-guest iSCSI initiator are not supported, and are skipped from processing automatically. Network shares and mount points targeted to 3rd party storage devices are also skipped as these volumes/disks are not visible in the VM configuration file. |
| OS | All VMware supported operating systems. Application-aware processing support from Microsoft Windows 2003 SP1 and later. |
| Software | VMware Tools (optional). VMware Tools are required for following operations: application-aware processing and file-level restore from Microsoft Windows guest OS. All latest OS service packs and patches (required for application-aware processing) |
On-premises Deployment:
On-premises deployment is one of the most common deployment method for SMB. We can  Backup VMs, Physical Machines and applications to the local storage repositories using this method.  LAN can be used for the data transport between Vembu clients and Vembu BDR server.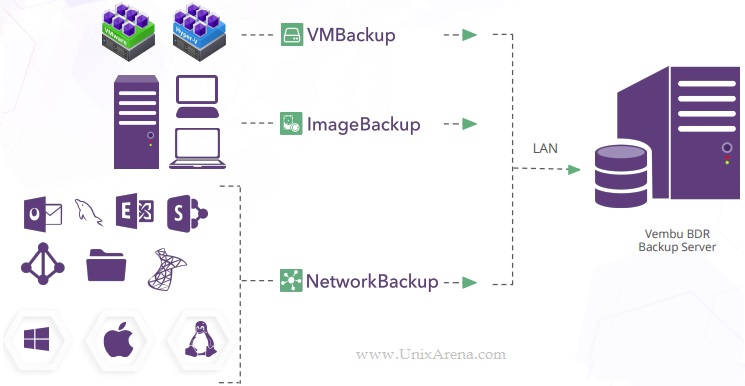 Let's Deploy Vembu Backup Server on Windows  Server 2012:
1. Download  and Install Microsoft Visual C++ 2013 Redistributable x64 which is dependency for Vembu Suite.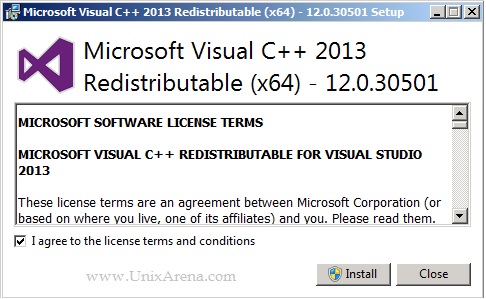 2. Download Vembu BDR Backup Server suite.  (you can download without sign-up also from Vembu site )
3. Execute the vembu-bdr-backup-server-3-6-0 which you have downloaded.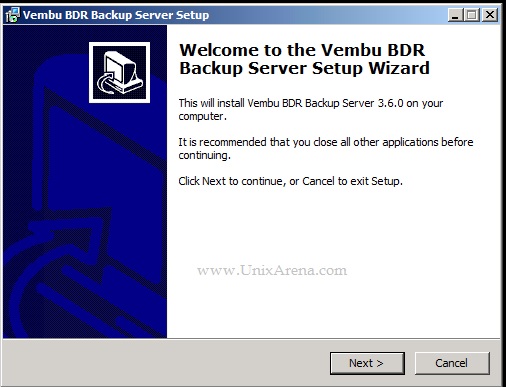 4. Accept the product license.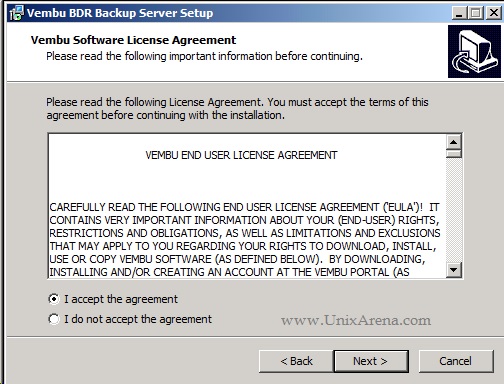 5. Select the MySQL RDBMS and connector.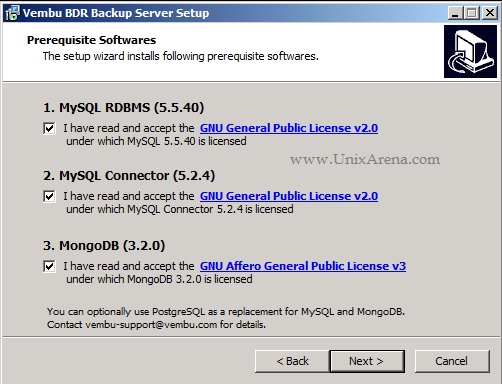 6. The default installation and storage repositories are set to C drive. Always choose customize during the product installation.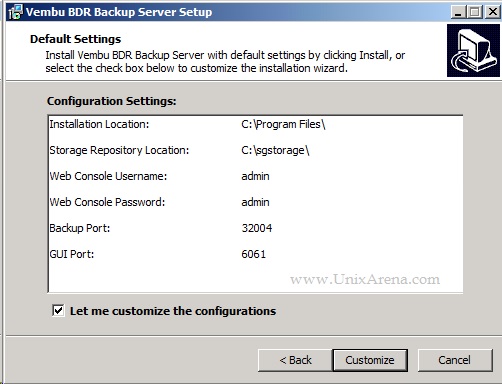 7. Select the MySQL install location and Database storage location. Store the database in different drive than C: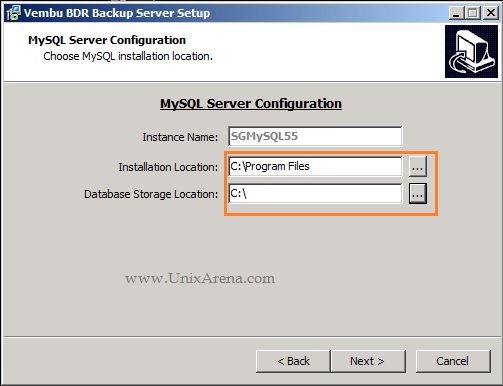 8. Choose the Vembu BDR Backup server install location.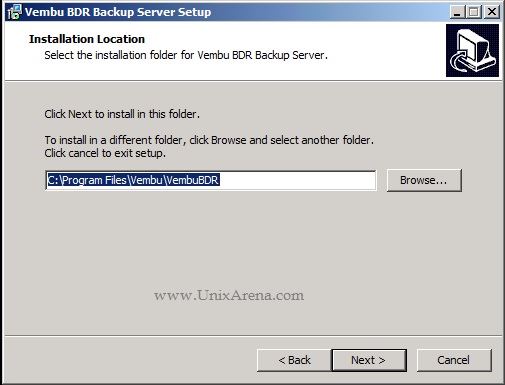 9. Select the Vembu Storage repository.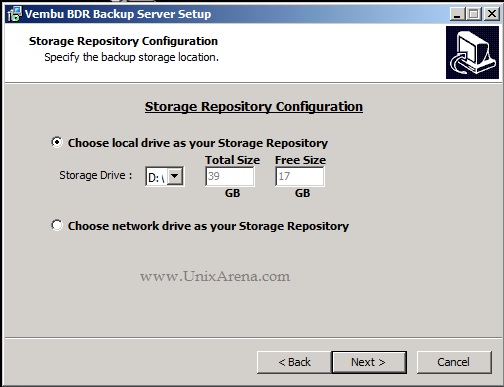 10. Here is the port and web console login  configuration.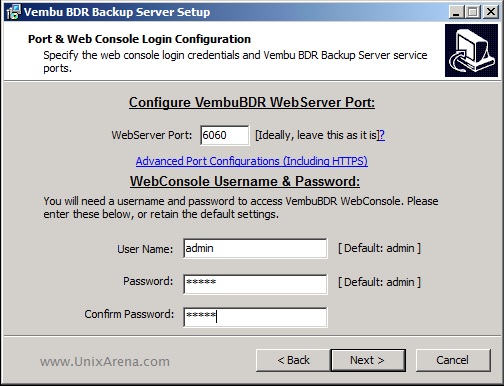 | | |
| --- | --- |
| Port |                                      Use |
| TCP Port 32004 | For processing Backup/Restore/Delete/Replication requests |
| HTTP Port 6060, 6061 | For processing WebService requests |
| TCP Port 32005 | For UI Communication |
| HTTPS TCP 443 | For Esx(i) Communication |
| TCP Port 902 | Data Transfer to ESX(i) host |
11. Click install to trigger the installation.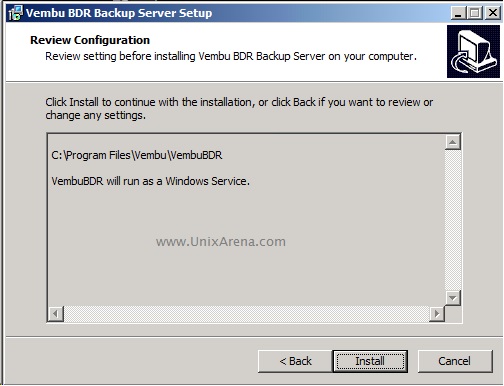 12. Click Finish to complete the Vembu BDR installation.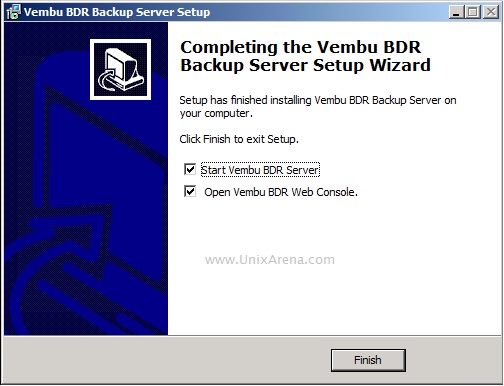 13. Launch Vembu Backup console using server IP address and port 6061.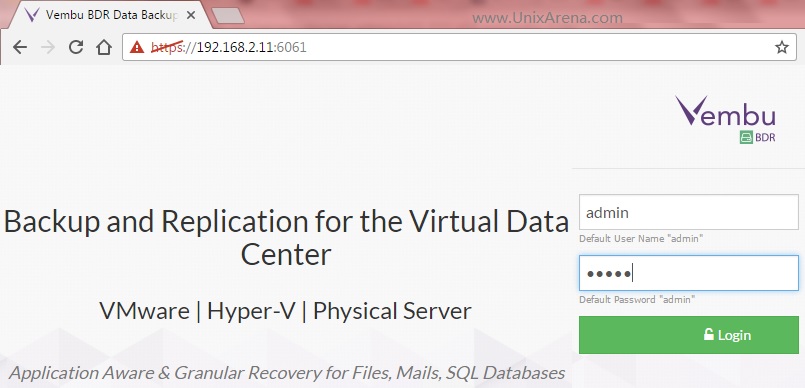 14. Select the timezone .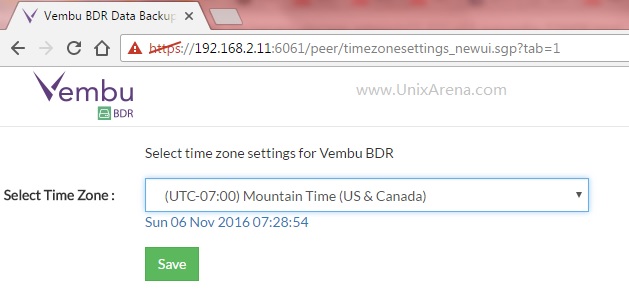 15. Enter a unique Vembu BDR ID.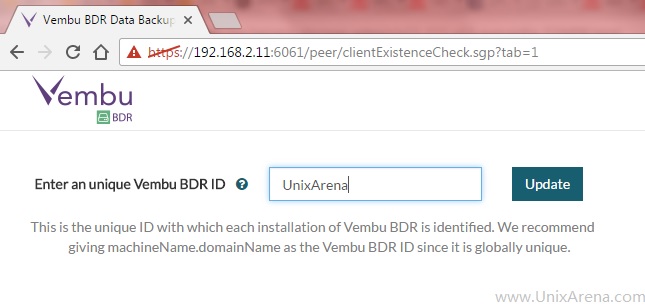 16. Here is the wonderful vembu BDR backup console.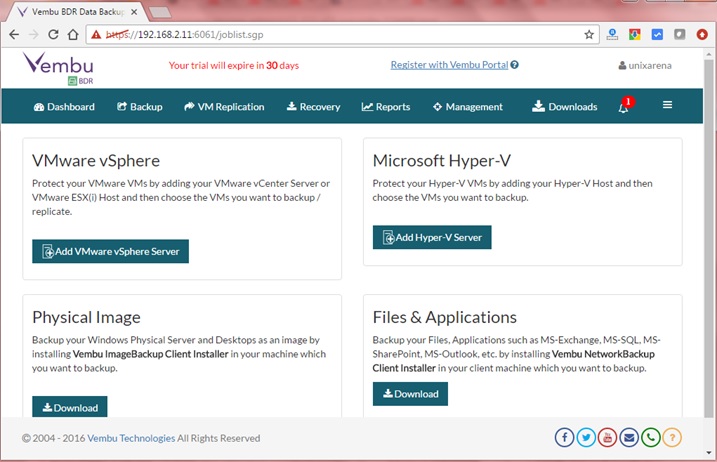 We have successfully deployed on-premise Vembu BDR Backup Server. In the upcoming articles , we will see the different type of deployments and the various backup methods.
Share it !   Comment it !!  Be Social!!!