The Amazon Web services and VMware had announced their cloud technologies collaboration on last Thursday 13th Oct 2016.  We never expected such a collaboration since both are market competitor and once sworn enemies. The following statement made by  VMware President in 2013 about Amazon.
"I look at this audience, and I look at VMware and the brand reputation we have in the enterprise, and I find it really hard to believe that we cannot collectively beat a company that sells books ," said Eschenbach about amazon
But now they are become partners and offering true hybrid cloud using their cutting technologies. This collaborations will definitely add more woes  for other cloud players like Microsoft Azure, Google Computing Platform and IBM. Amazon web services had a clear advantages over anyone from this collaboration including VMware. Because VMware has their own Cloud offering "VMware vCloud Air " but now most of the customers would like to prefer Amazon AWS over vCloud Air since AWS has datacenters in 35 Availability Zones across 13 different locations around the world.
VMware Cloud on Amazon AWS : 
VMware Cloud on Amazon AWS is a vSphere-based cloud service. This new service will bring enterprise-class Software-Defined Data Center (SDDC) software to the AWS cloud world. The enterprise customers will be able to run any application across vSphere-based private, public and hybrid cloud environments. It will be delivered, sold and supported by VMware as an on-demand, elastically scalable service and customers will be able to leverage the global footprint and breadth of services from Amazon AWS.
The service will integrate the capabilities of our flagship compute, storage and network virtualization products (vSphere, Virtual SAN and NSX) along with vCenter management, and optimize it to run on next-generation elastic, bare-metal, Amazon AWS infrastructure. This will enable customers to rapidly deploy secure, enterprise-grade AWS cloud-based resources that are operationally consistent with vSphere-based clouds. The result is a comprehensive turnkey service that works seamlessly with both on-premises private clouds and advanced AWS services.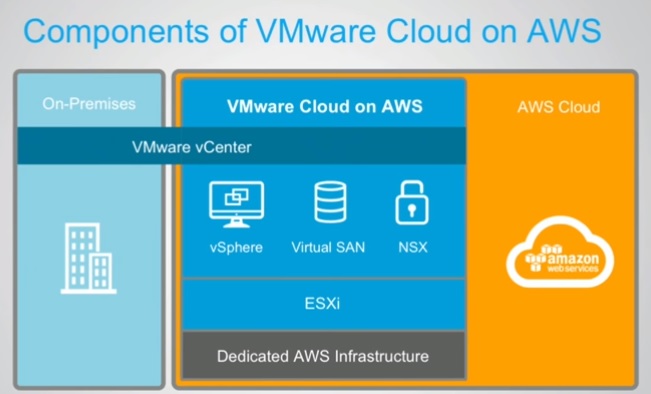 VMware vSphere on AWS :
This new offering is a native, fully managed VMware environment on the AWS Cloud that can be accessed on an hourly, on-demand basis or in subscription form. It includes the same core VMware technologies that customers run in their data Centers today including vSphere Hypervisor (ESXi), Virtual SAN (vSAN), and the NSX network virtualization platform and is designed to provide a clean, seamless experience.
1. Create a VMware AWS account.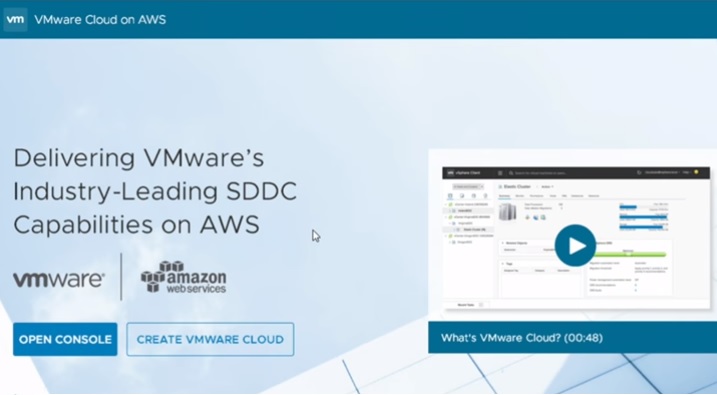 2. Choose a region near to your On-premise datacenter.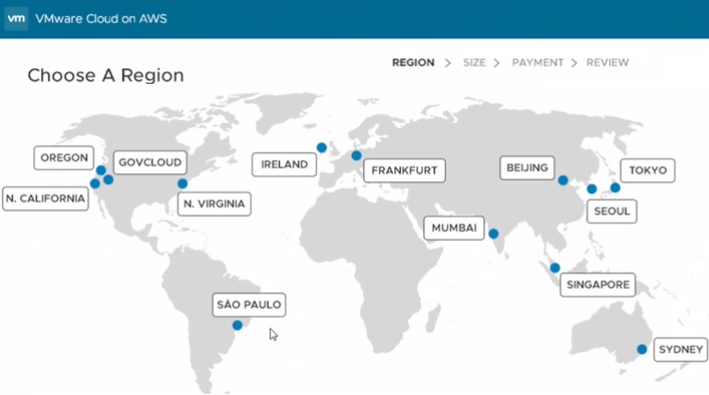 3. Choose a size based on your requirement.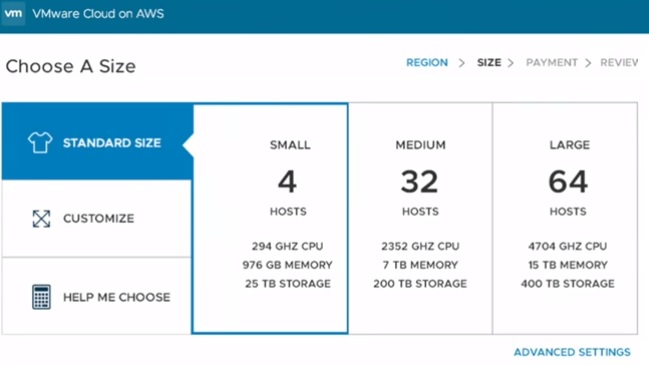 4. Choose payment method.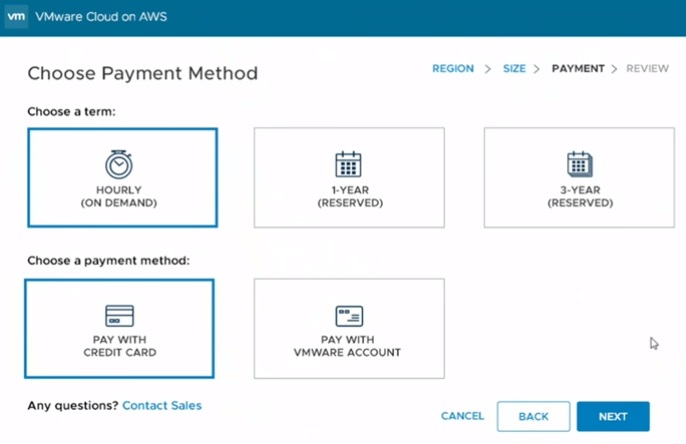 5. Review and check-out .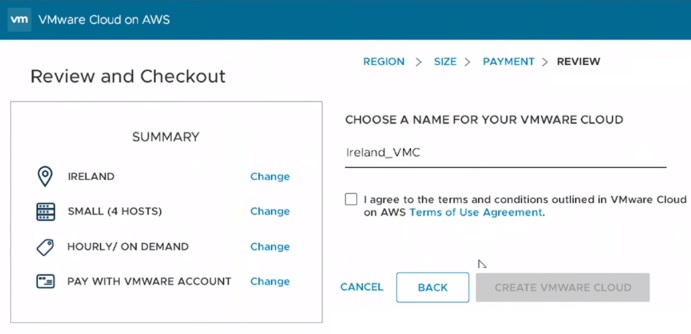 6. AWS VMware Cloud is getting ready for you.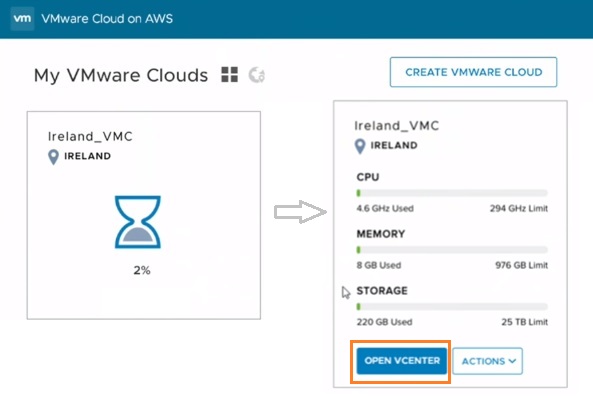 Once the datacenter is ready , you will get option to launch  vCenter by clicking "open vCenter".
Amazon and VMware offers to link the on-premise vCenter with Amazon AWS vCenter. So that you can leverage of VMware features like vMotion and Storage vMotion.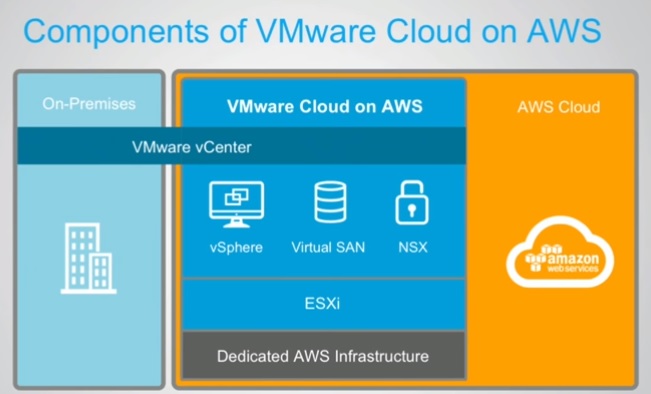 7. Here you can see the newly created VMware Cloud on AWS.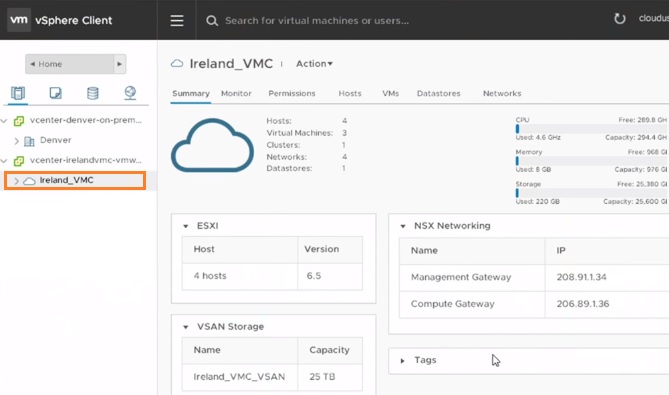 8. On-premise VMware vSphere Datacenter.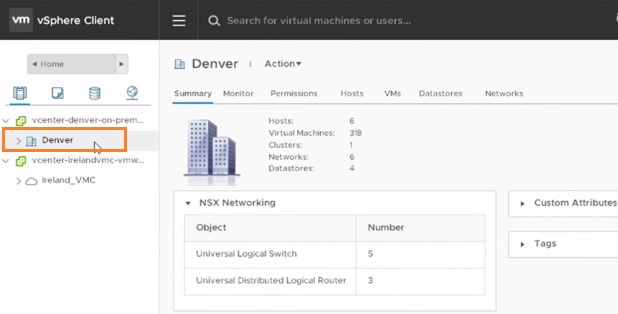 9. Assuming that On-premise datacenter is running out resources and would like to migrate some of the workload to AWS VMware cloud.  Select the On-premise VM and migrate to VMware cloud – AWS datacenter.
10. Choose both compute and storage to migrate to AWS VMware Cloud.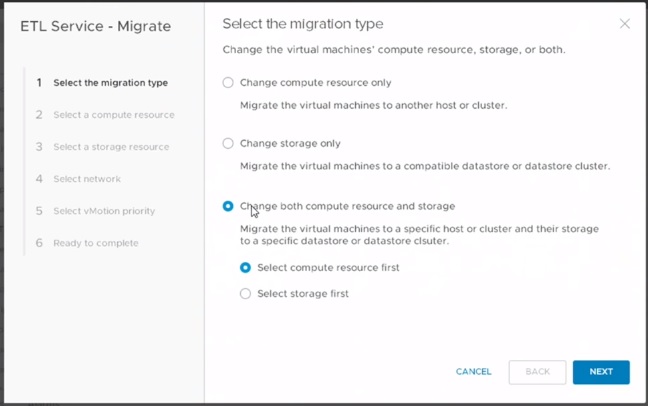 11. Select cluster from AWS VMware Cloud for compute.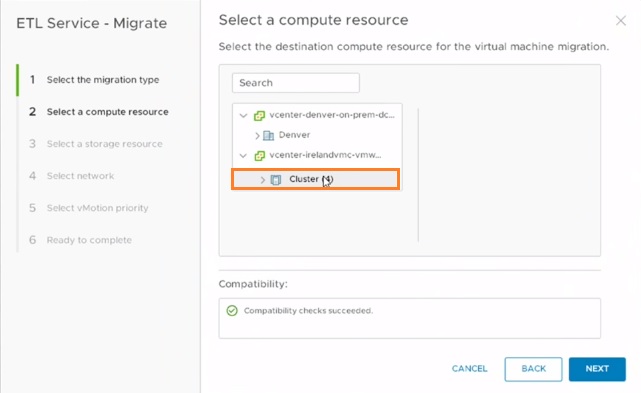 12.select the AWS VMware cloud datastore (Based on VSAN).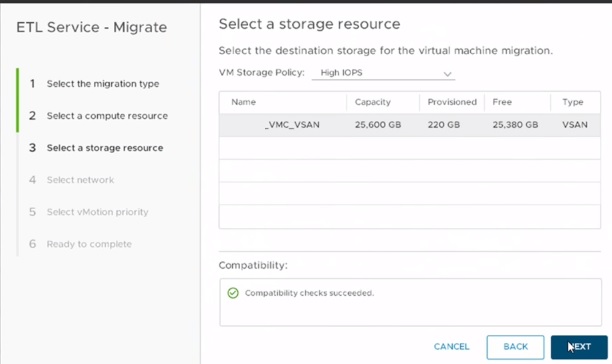 13. select the VMware cloud network.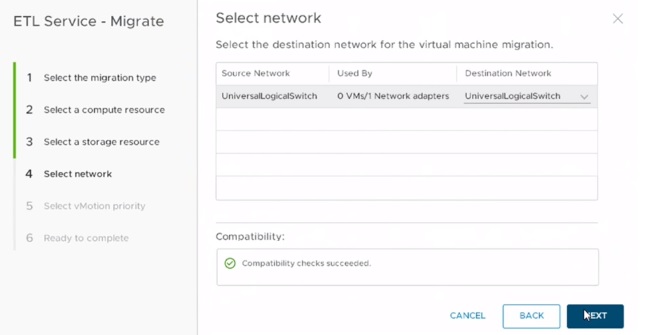 14. Click Finish to initiate the VM migration from on-premise datacenter to AWS VMware Cloud.

15. Here you can see the VM migration.

DRS vs Elastic DRS: 
VMware offers distributed resource scheduler (DRS) to balance loads across the cluster.

Let's assume that One of the ESXi hypervisor  overloaded.

VMware vSphere DRS will automatically move the VM's within the ESXi cluster to balance the load. If you do not have enough ESXi hypervisors ,  We can leverage the Elastic Distributed Resource Scheduler to provision the additional bare-metal ESXi hypervisor to balance the work loads.

AWS Services on VMware Cloud:
Due to this collaboration, we have option to leverage the AWS services on VMware environment,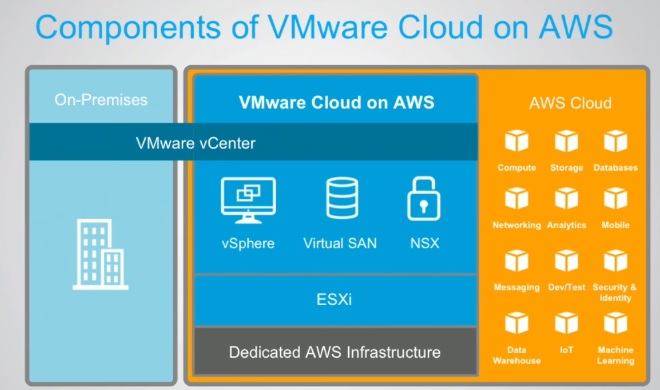 There is no doubt that customers will be benefited due to this collaboration . Lets wait and see that how the existing VMware customers are going to use AWS .