This article is going to explain about the NetApp  clustered DATA ONTAP's  physical objects and virtual objects.  Physical elements of a system such as disks, nodes, and ports on those nodes―can be touched and seen. Logical elements of a system cannot be touched, but they do exist and use disk space.   For the NetApp beginners , the initial Netapp series articles might looks difficult to understand the concept and architecture but once the LAB guide starts, they can slowly grab the things .
Physical elements:
Nodes
Disks
Network Ports
FC ports
Tape Devices
Logical elements:
Cluster
Aggregates
Volumes
Snapshot Copies
Mirror relationships
Vservers
LIFs
Volumes, Snapshot copies, and mirror relationships are areas of storage that are divided from aggregates. Clusters are groupings of physical nodes Vservers are virtual representations of resources or groups of resources. A LIF is an IP address that is associated with a single network port.
The below digram shows the typical clustered ONTAP's two cluster setup.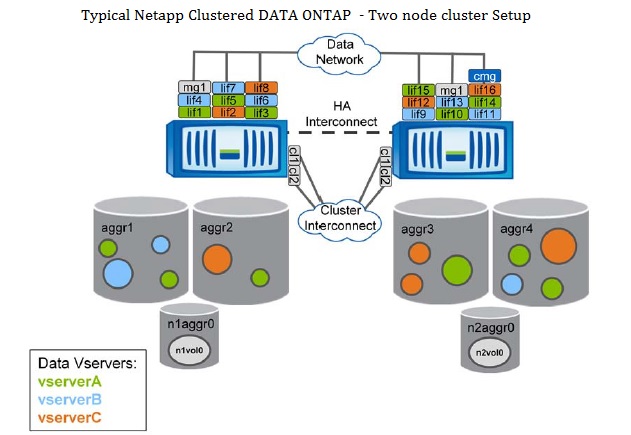 Virtual Storage Server (vServer):
vServer represent grouping of physical and logical resources . This is similar to vFilers in 7 Mode. There are three types of Vservers. Data Vservers are used to read and write data to and from the cluster.Node Vservers simply represent node-scoped resources, and administrative Vservers represent entire clusters.
It represents a cluster (group of physical nodes) and it will be associated with cluster management LIF.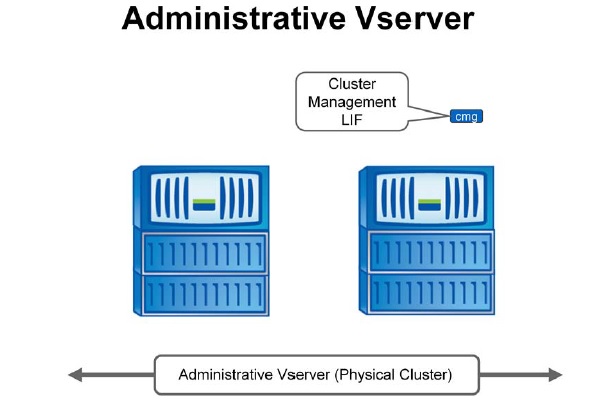 It represent each physical Node. It will be always associated with cluster LIF , node Management LIF and interconnect LIFs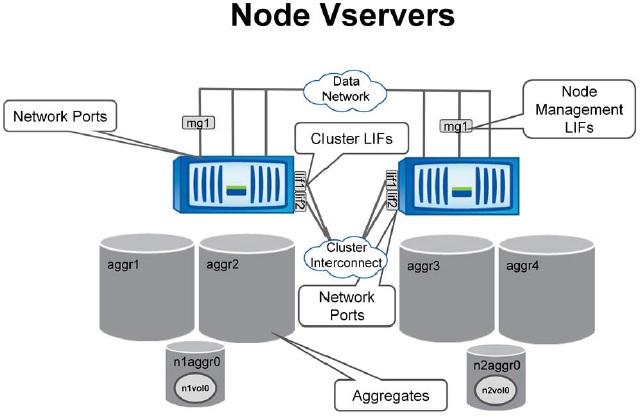 Data vServers are a virtual representation of a physical data server and it will be associated with data LIFs.  It will not associated with any single node. It contains following resources within it.
Namespace
Volumes
Data LIFs and Management LIFs
Protocol Servers (NFS,CIFS,iSCSI,FC,FCoE)
Infrastructure Services (NIS, DNS, LDAP, kerberos, NTP)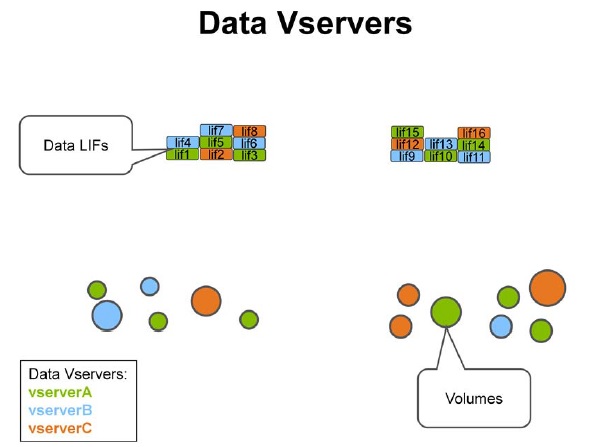 Let's combine all the above vServers in to one. In the upcoming articles , we will be configuring all the elements manually starting from the cluster setup, vServers , LIFs etc..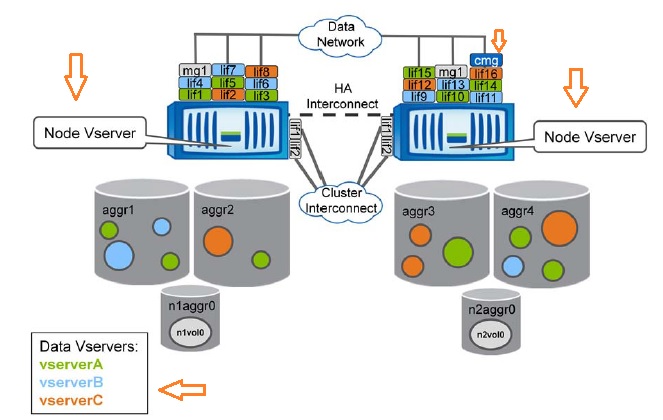 Hope this article is informative to you.  Share it ! Comment it ! Be Sociable !!!