NetApp FAS unified storage arrays available in wide range of configurations to meet the current business needs. Clustered Data ONTAP operating system is available for all the FAS unified storage arrays. Each of the Netapp FAS platforms can be configured with SATA, SAS, or SSD disk shelves, and shelves can be mixed. This allows you to scale performance and capacity independently. Using NetApp FlexArray technology, you could integrate the third party storage arrays in Clustered Data ONTAP as backed storage. Let's have look at some of the NetApp FAS Series.
NetApp focuses on two platform architectures, one for the enterprise market segment and one for the entry level.
The Enterprise focus is with system performance and scalability (cost is a lower priority), improving serviceability, supporting controller upgrades in place (within a family and between generations) and building towards a future that includes hot-swap IO.
The Entry level focus will have a greater priority on balancing the performance of the systems with their cost, one delivering integrated controller and storage, providing more size optimized platforms, and improving simplicity.
NetApp's Enterprise level FAS series starts with FAS8xxx and Entry level FAS series starts with FAS2xxx.
Enterprise Segment Platform: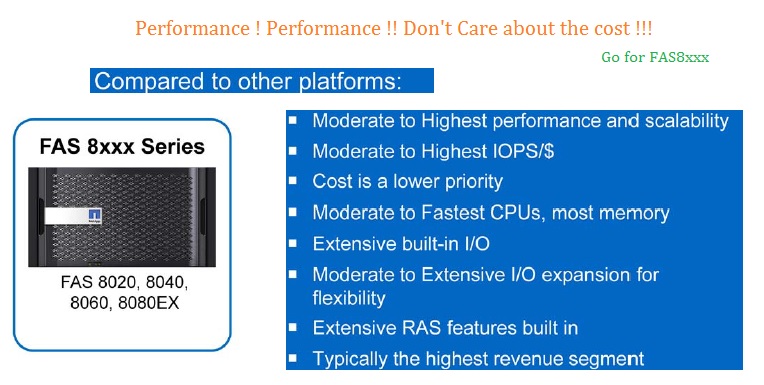 NetApp Entry Level FAS: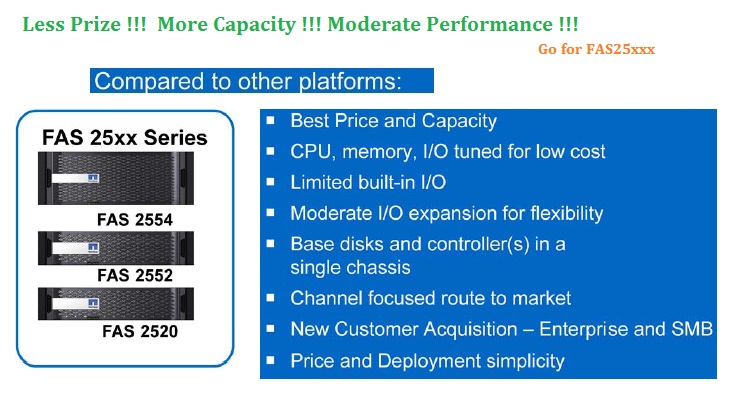 Let's look at the FAS controller closely.
NetApp FAS Storage consists the following:
NetApp FAS controller .
Disk Shelf
IOXM – Input/Output extended Module (Optional Component)
Clustered DATA ONTAP Operating System (Free  BSD)
NetApp FAS Controller:
The below snapshots provides the available ports on FAS 8020 controller.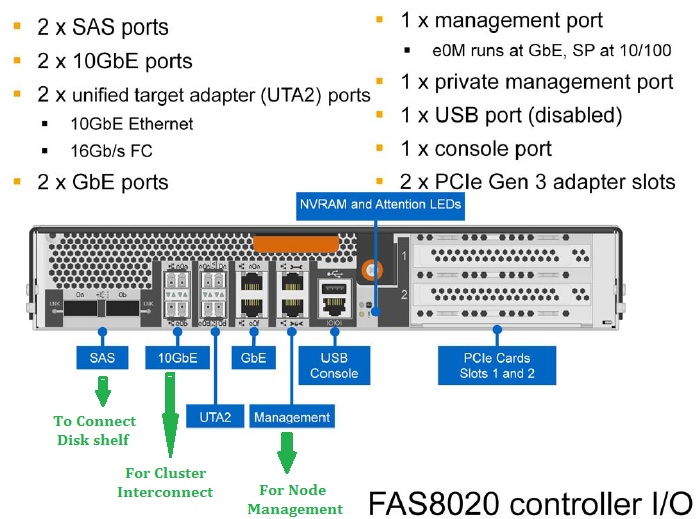 The above diagram shows the single FAS controller. Typically FAS 8020 HA configuration will look like below. In a single-chassis HA pair, both controllers are in the same chassis. The HA interconnect is provided by the internal backplane. No external HA interconnect cabling is required.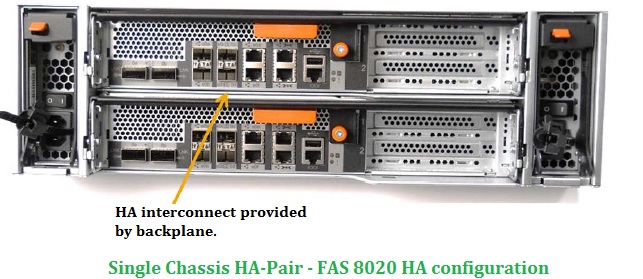 Note: HA Interconnect and  Cluster interconnect are not the same.
In Clustered DATA ONTAP , We will be aggregating many nodes in to one single cluster. In the upcoming article we will see about clustering.