In Cisco 6100 series Fabric interconnect , the fixed module ports can be used only for server ports and Ethernet uplinks ports. In other-words , Ports are not unified in this series. But we can add expansion modules to increase the number of uplink ports on the fabric interconnect or to add uplink Fibre Channel ports to the fabric interconnect. But in Cisco 6200 series, ports are unified. Ports can be configured to carry either Ethernet or Fibre Channel traffic. Using UCS manager , you can  configure the port type as Ethernet or Fibre.  In this article , we will see how to set the port mode and discussing about various port type supported on Fabric interconnect.
Configuring the port Mode:
1. Login to UCS Manager .
2. Navigate to Equipments – > Fabric Interconnect – >  Fabric Interconnect A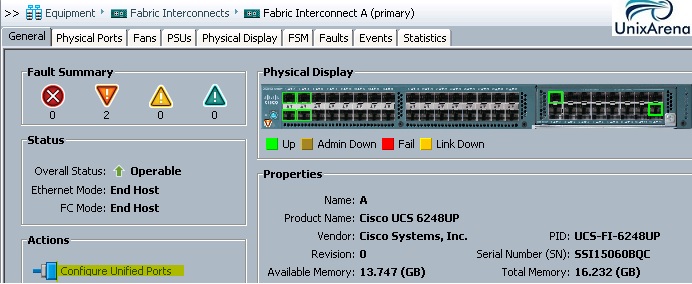 3. Click on "Configure Unified ports"  on the right side.
4. This wizard will allow to change the port mode from Ethernet to Fibre channel or FC to Ethernet.  Changing the port mode on either module causes an interruption in data traffic because changes to the fixed module require a reboot of fabric interconnect and changes on an expansion module require a reboot on that module.
Click "Yes" to continue.

5. The default port type will be "Ethernet" . There is a slider (highlighted ) which will helps you to configure the port mode. Here the slider is in right most position and that confirms that all the ports mode is "Ethernet".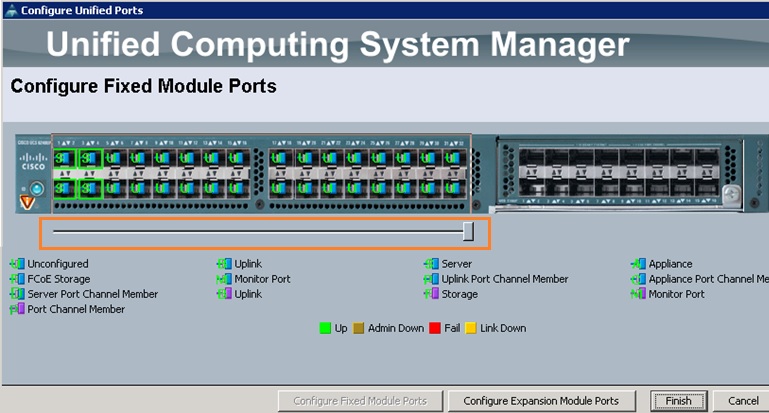 In my lab environment , I am going to use all the fixed module ports mode as Ethernet. So I am not going to modify anything on the fixed module part.
6. Click on the "Configure  expansion module ports".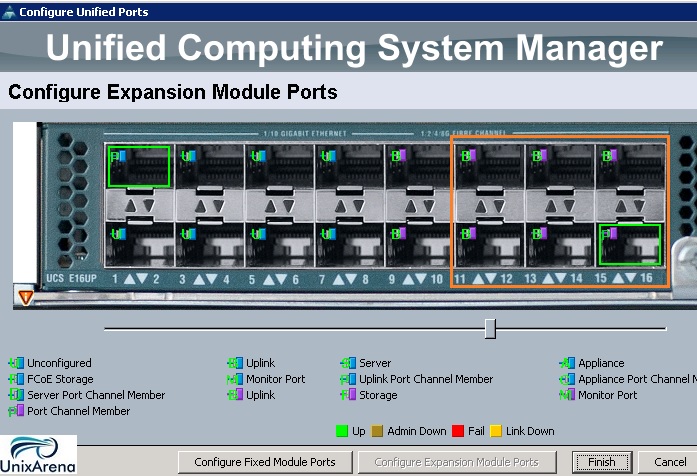 Here you can see that , I have used the slider to change the port type from Ethernet to FC . (Dragged the slide to towards left side).  Currently ports from 11 to 16 are configured as FC uplinks ports.
7. Repeat the steps from 2 to 6 for Fabric interconnect – B
This demonstrations proves that we can easily  modify the port mode from Ethernet to FC and vice-versa on the Fabric interconnect.
Port types:
The port type defines the type of traffic carried over a unified port connection. By default, unified ports changed to Ethernet port mode are set to uplink Ethernet port type. unified ports changed to Fibre Channel port mode are set to the Fibre Channel uplink port type. Fibre Channel ports cannot be unconfigured. But Ethernet port can be kept in unconfigured state. There won't be any reboot required in the fabric level to change the port type. But it doesn't meant that there won't be any impact to the services.
For an example , if you unconfigured the Ethernet uplinks ports , the whole UCS domain will be disconnected from the network.  Be careful when you are playing with the links.
If you set the port mode as  Ethernet, you can configure the following port types:
Server ports
Ethernet uplink ports
Ethernet port channel members
FCoE ports
Appliance ports
Appliance port channel members
SPAN destination ports
SPAN source ports
If you set the port mode as FC , you can configure the following port types.
Fibre Channel uplink ports
Fibre Channel port channel members
Fibre Channel storage ports
SPAN destination ports
SPAN source ports
Note: For SPAN source ports, configure one of the port types and then configure the port as SPAN source.
Hope this article informative to you.