What is Converged infrastructure systems ?  It is nothing but  merging all the infrastructure in to one box. Converged infrastructure systems normally comes as bundle,  with servers, storage, network switches  and required software to manage infrastructure, orchestration and automation.  These are well tested machines and works great with . Converged infrastructure  systems are slowly getting to the market to reduce the implementation and operational cost. Vblock  (Formerly known as Acadia) is converged infrastructure solution from company called VCE which is owned by Cisco and EMC. Intel & VMware also have some shares on VCE.   By seeing the share holders name , we can easily guess that who provides what to make the Vblock box possible.
Cisco's Unified computing is rapidly growing in the x86 server market and they are going to provide the X86 blades  and network switches to make the Vblock's. The Storage giant, EMC is responsible to provide the  storage and VMware will provide the infrastructure management software, this is  nothing but VMware vSphere.
Benefits of Converged infrastructure systems:
Provides the single console management for server , storage and networking .
Lower TOC (Total ownership cost)
Reduced cabling (Since storage & network switches are within the box)
Reduced the labours cost via data-centre automation
Reduced the data centre space, cooling and power.
Built-in redundancy for high availability
Here we will see that how the VCE Vblock has been constructed with multiple information technology components .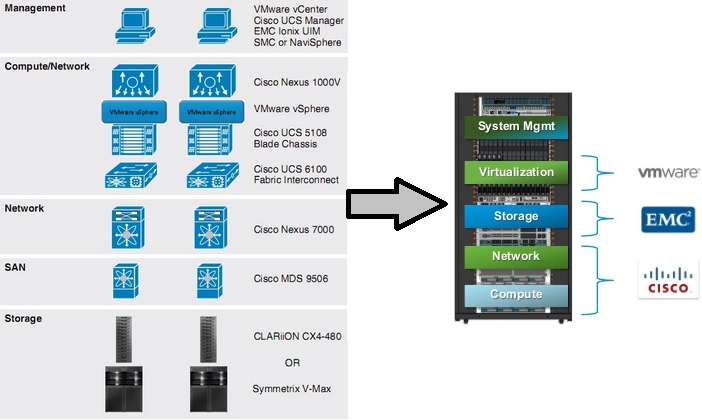 VCE Vblock System 740 – Architecture overview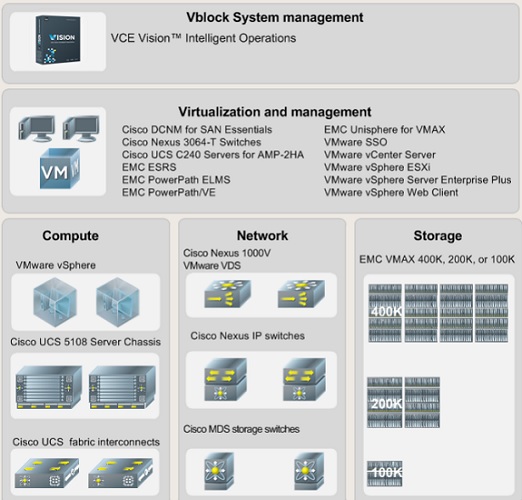 Compute Nodes
VCS Vblock System 74o can accommodate Cisco M3/M4 UCS baldes. It can be customized like below.
Up to sixteen Cisco UCS server chassis per Cisco UCS domain
Up to four Cisco UCS domains (four pairs of fabric interconnects)
Supports up to 32 double-height Cisco UCS blade servers per domain
Supports up to 64 full-width Cisco UCS blade servers per domain
Supports up to 128 half-width Cisco UCS blade servers per domain
Storage
System 740 can supports 2 ½ inch drives, 3 ½ inch drives, and a mix of both 2 ½ inch and 3 ½ inch drives.It can be customized like below.
• EMC VMAX 400K
Contains two to eight engines
Contains a maximum of 256 front-end ports
Supports 10 – 5760 drives
• EMC VMAX 200K
Contains two to four engines
Contains a maximum of 128 front-end ports
Supports 10 – 2880 drives
• EMC VMAX 100K
Contains one to two engines
Supports 5 – 1440 drives
Supported Disk drive type
Tier 1 drives (solid state drives): 200/400/800 GB
Tier 2 drives: • 15K RPM: 300 GB • 10K RPM: 300/600/1200 GB
Tier 3 drives: 7.2K RPM: 2/4 TB
Network Connectivity
Cisco MDS and Nexus switches are responsible to provide the network and SAN connectivity within the Vblock system, and between the Vblock System and the external network.
The below table provides the layers of Vblock system.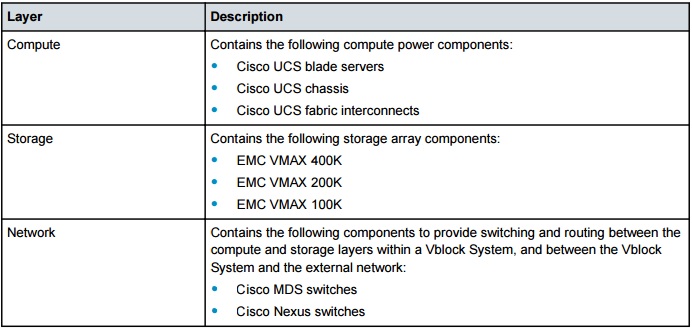 How these components are interconnected within the Vblock box ? 
If you have already worked on Cisco UCS B Series servers, you will get fair idea about the Vblock architecture . Cisco UCS B series servers will not have the dedicated FC or Network card on it. It has the Mezzanine card which carries the IP network and SAN traffic (Using FCoE) to the UCS manager (Fabric Interconnect). From the FI (Fabric Interconnect), the traffic are divided and it goes to the respective switches and storage.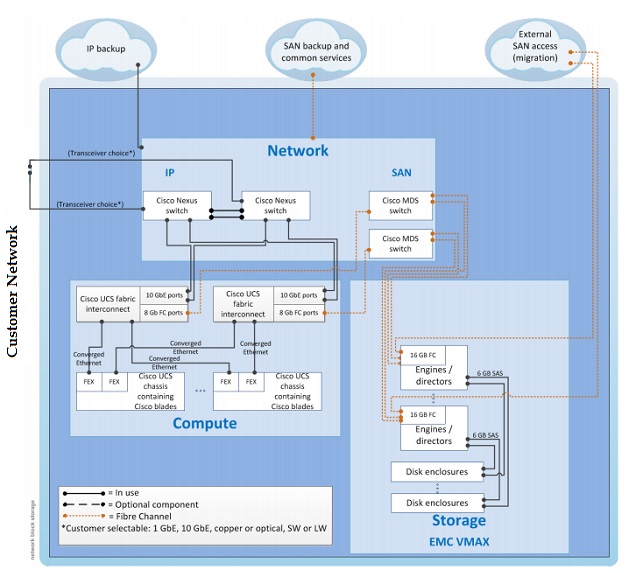 Redundancy 
 All Vblock components incorporate redundancy into the design itself. So that single point of failure is completely eliminated and load balancing is possible through the redundant components. Here you can see that inbuilt- SAN storage is connected to Cisco MDS switches with multiple connection.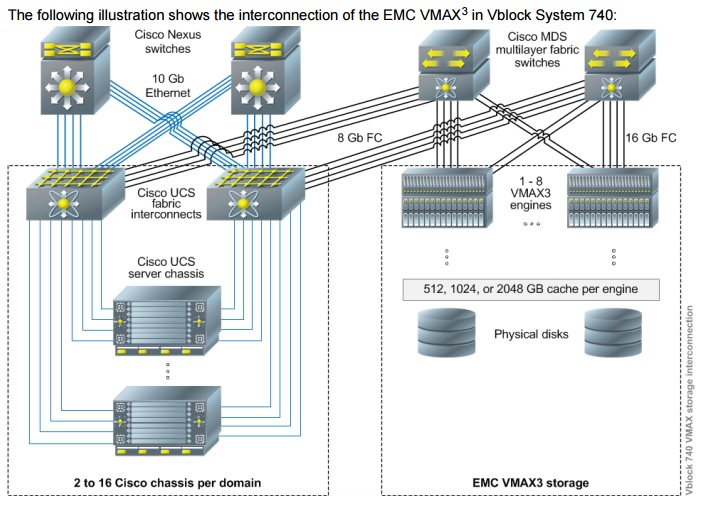 Due to virtualization revolution, infrastructure solution got changed  lot in the operating system part  and its time to check the pulse of existing hardware solutions. Definitely , converged systems will create a storm in the server hardware market for sure.
Note: Oracle also offers converged systems in the name of "Oracle Super-cluster" . As you know that they are in to hardware, database and softwares, You are forced to use all their technologies in the super-cluster box.
Hope this article is informative to you .