In March 2015, VMware has released the much-awaited VMware vSphere 6.0 .  Is it completely different from the previous VMware releases vSphere 5.5 and vSphere 5.1 ? No.  The most of the features are remains same but there are lot of enhancement made on the existing features. For an example, VMware has brought lot improvements on the VM Fault tolerance in vSphere 6.0. Also there are few new features introduced  in the VMware vSphere 6.0. Let's see the new features of VMware vSphere 6.0. In the bottom of the article ,I have listed the differences between the vSphere 6.0 , vSphere 5.5 and vSphere 5.1 versions.
What's New in VMware vSphere 6.0 ?
VMware vSphere Virtual Volumes. (vvols)
vSphere Content Library .
Cross-vCenter Clone and Migration
Enhancement Area's:
Increased Scalability
Expanded Support
Amazing Graphics with NVIDIA
Instant 10x Faster Clone
Network IO Control
Multicast Snooping
Multiple TCP/IP Stack for vMotion
vMotion Enhancements (over distances of up to 100ms RTT. )
Replication-Assisted vMotion
Fault Tolerance (up to 4-vCPUs)
Enhanced User Interface (web client)
Let's see the comparison between VMware vSphere 6.0 and VMware vSphere 5.5 & 5.1 versions.
ESXi – Hypervisor Level – Comparison:

Virtual Machine Level Difference:

VMware vCenter Level Differences: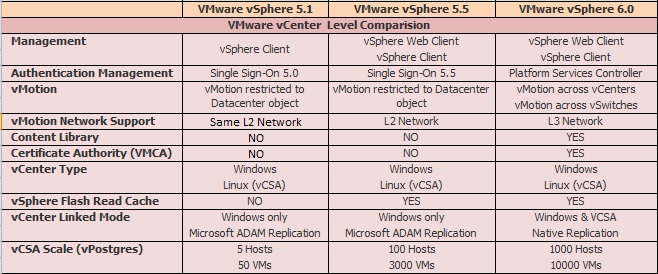 Hope this article is informative to you. Share it ! Be Sociable !!
Sources:
http://www.vmware.com/files/pdf/vsphere/VMW-WP-vSPHR-Whats-New-6-0.pdf
https://www.vmware.com/pdf/vsphere5/r50/vsphere-50-configuration-maximums.pdf
https://pubs.vmware.com/vsphere-51/topic/com.vmware.ICbase/PDF/vsphere-esxi-vcenter-server-51-availability-guide.pdf