Everybody would have been surprised when CISCO jumped in to the X86 server hardware market in 2009. Since then they are growing rapidly in the server market and now they are one of the  competitive vendors for Dell and HP.  CISCO have chosen the right market where they can demonstrate the network capabilities and implement the innovative thinking. CISCO got the knowledge of X86 hardware when the all the X86 hardware vendors were seeking solution for the blade architecture.
Cisco named their X86 hardware as Unified Computing system(UCS).  Cisco's main target is to reduce the total ownership cost and improve scalability on the X86 hardware platforms.
How different Cisco UCS X86 servers from other hardware vendors like HP and Dell X86 servers ?
UCS blades comes along with fabric interconnects which runs on NX-OS with UCS Manager application. This application helps to manage the whole UCS environment as a single unit.
Unlike other hardware vendors , Cisco will never ask you to upgrade the firmware on the systems periodically. Unless you would like to add new functionality or Operating systems requires new functionality, you can stay with older version of firmware.
Stateless Computing – Which means that none of the UCS blades are encoded with MAC address ,WWN values, IP addresses, UUID, firmware and even server BIOS . These all the items are configured in UCS manager as a service profile and it will be applied to the server whenever required.  Here you can find more information about it.
Single UCS manager manages 160 servers with the help of Cisco Fabric Extender Technology (FEX Technology).
Cisco also offers UCS central which extends the management across multiple domains of UCS and supports 10,000 UCS servers.
UCS – Manager: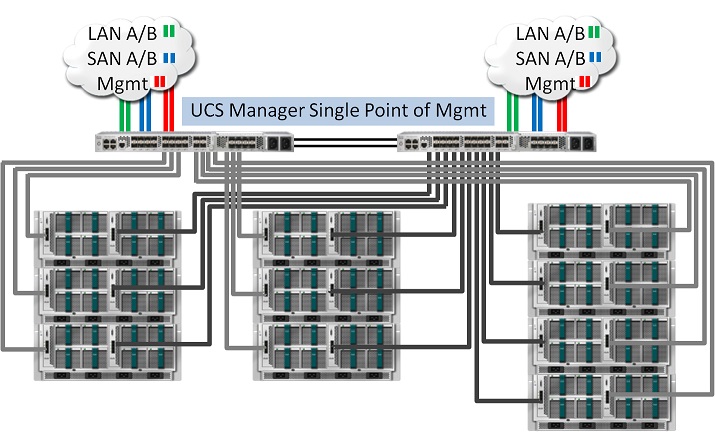 Cisco UCS servers can be classified in to two types.
Cisco C – Series
Cisco B – Series
1. Cisco C – Series.
Cisco C – Series servers are nothing but a rack mountable servers. It has dedicated components unlike the blade servers. UCS manager(Fabric Interconnect) is not comes along with Cisco C-series servers but these servers can be added to it. If you do not have UCS manager , then you have to manage the each rack server using the Cisco Integrated Management central  (CIMC) which is similar to ILOM in sun hardware, DRAC in dell servers and ILO in  HP servers .

2. Cisco B – Series.
Cisco B – series servers are blade servers which comes along with UCS chassis and UCS manager (Fabric Interconnect).  Cisco blades are clearly has advantage over the C- series servers  on the cost and power consumption. UCS manager can be used to manage up to 160 B-series blade servers or C- series with the help of Fabric Extenders. UCS manager is a application which runs on NX-OS operating system(Linux based) and the hardware is based on Cisco Nexus 5000 switch.

In the up coming articles ,we are going to see these two type of UCS hardware in more details .
Thank you for Visiting UnixArena.