This article will help you to update the license keys for vCenter operation Manager 5.8 .Once we have deployed the vC Ops ,we need to assign the proper license key to get all the features of the vC Ops. If your product is working on the foundation license mode, it won't give you any historical data and capacity information which we need desperately. We will see that how we can assign the proper license to vC ops using vSphere web-client .
1. Login to vSphere web-client  and click the Licensing icon which will be under administration tab.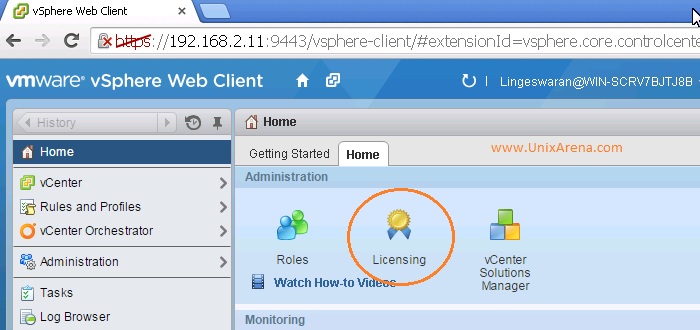 2.Navigate to the Solutions.Select the "vCenter Operations Manager" and click on "Assign license key".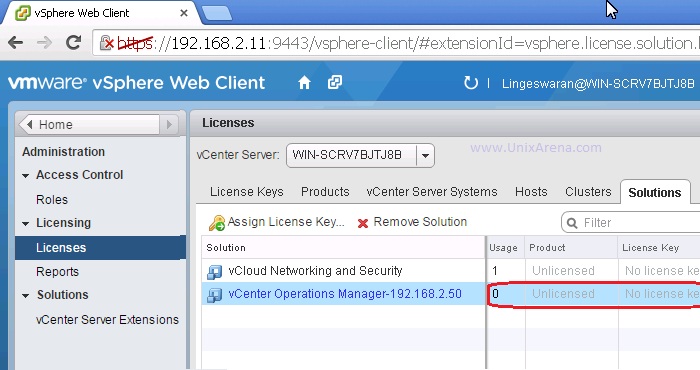 3.Select the assign new license key from the drop down.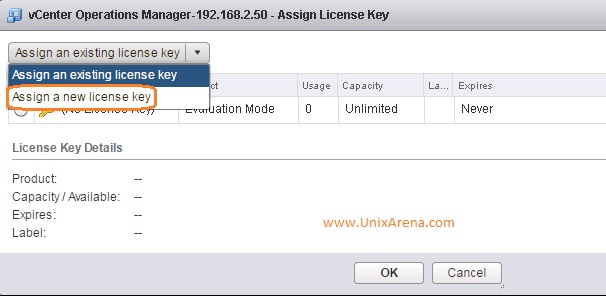 4.Enter the license key which you have purchased from VMware and enter the meaning full name in the Label tab.Click OK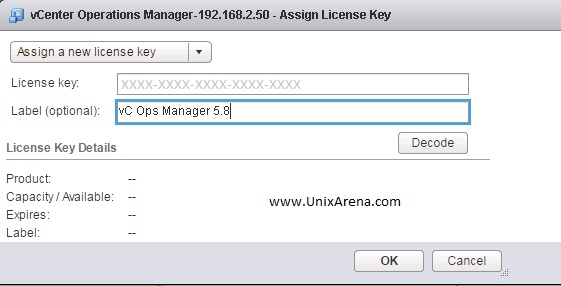 5.You will get the screen like below once your license got updated successfully.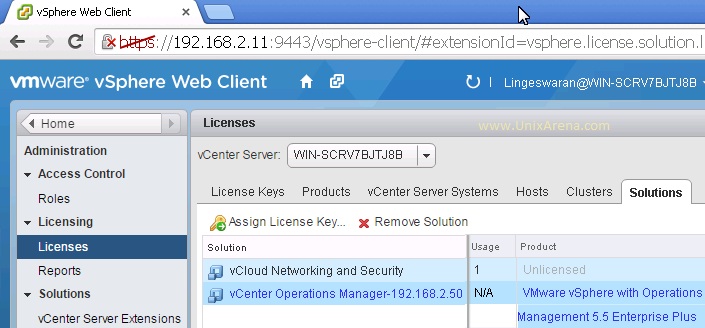 vCenter will update the license information to vC Ops UI VM for every 20 minutes. We can also force the license information to vC Ops using below set of commands.This is required only when you want to change the license keys .
6.Login to vC Ops UIVM console from vSphere web-client by clicking the launch console.

7. From the console login as root and switch to admin using "su – admin" command.
8.Check the current license SKU. We have updated the vC ops license keys for "vCenter Operations Manager 5.5 Enterprise Plus" but it's not yet reflecting here.

9.Let me update the license information using vcops-admin command.

10.Let me check the license status again.

We can see that license information got updated from vCenter.
11. Let me restart the vcopsadmin service to use the new licensing  features using root user. You will get an error if you try to use the "service" command on "admin" user login.

We have successfully updated the license information for vC Ops.  Thank you for visiting UnixArena.
Share it ! Comment it !! Be Sociable !!!