Server virtualization has changed the traditional way of computing completely. In older days , To get the required operating system instance ,we need to wait atleast for atleast for a month.Why because, the procurement team need to get the quote from the hardware vendors, place the order for new hardwares,deploy it in the datacenter and hire architect to design the environment.But today, server virtualization made this as so simple that you can get the required operating system instances in few minutes. Yes. Just deploy the VM from the Pre-Configured template.
Here you can see Non-virtualized environment vs virtualized environment using hypervisor.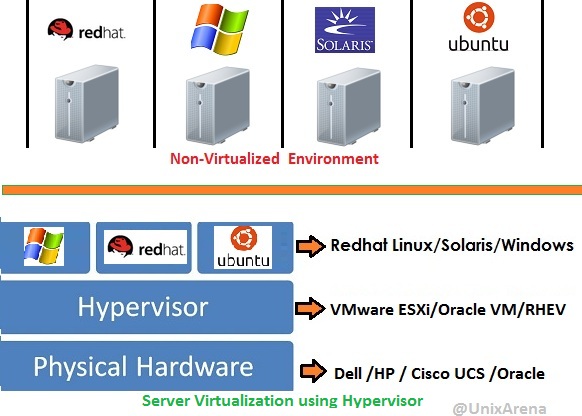 Server Virtualization has moved one more step further  and its offering  "Cloud". (VMware vSphere in the back-end and vCloud Director aka vCloud automation center in the front end).

What's Next ? Server virtualization is happening on the all the clients environment. But virtualization players like VMware and Cisco are started concentrating more on software defined datacenter .
VMware NSX (Network virtualization platform – NVP)plays huge role in software defined datacenter  where it offers the network virtualization. VMware NSX reproduces the complete set of Layer 2 through Layer 7 networking services  (Ex:firewall, switching, QoS, routing, access control and load balancing).As a result, we no need to wait for network team to provision the network and setting the firewalls. These services can be programmatically assembled in any arbitrary combination, to produce unique, isolated virtual networks in a matter of seconds. You can find more about VMware NSX/NVP on here.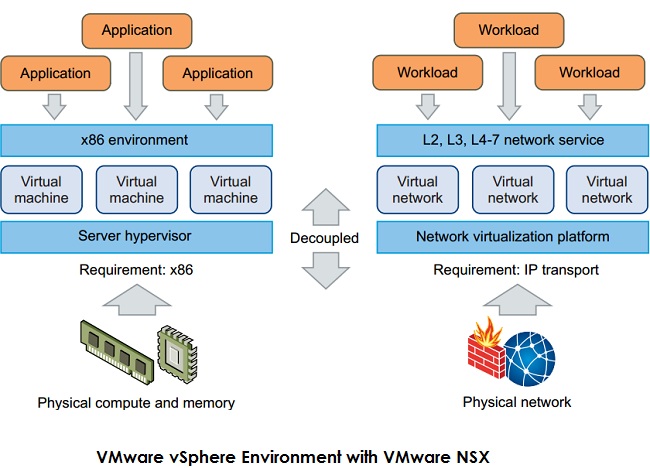 VMware also invested lot on the software defined storage. Features like vSphere Flash Read Cache, VSAN,VVOL's  and VMware virsto are some of the example.
VMware vSphere Flash Read Cache virtualizes server side flash providing a high performance read cache layer that dramatically lowers application latency. The caching is fully transparent to the VM without requiring any guest agents. Flash Read Cache enables allocation of flash resources at a per-VMDK granularity providing VMware vSphere vMotion consistent read caching and integration with VMware vSphere® Distributed Resource Scheduler for initial placement.  Notes from www.VMware.com
Here is the VMware virsto  sample architecture.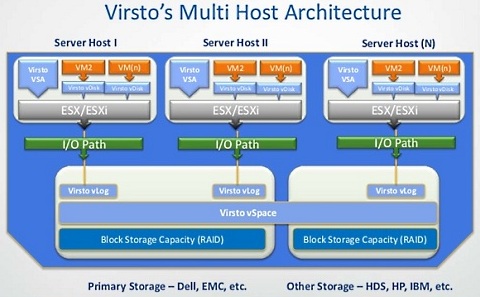 The beauty of VMware virsto is that it provides the better performance on the thin volume provision as well.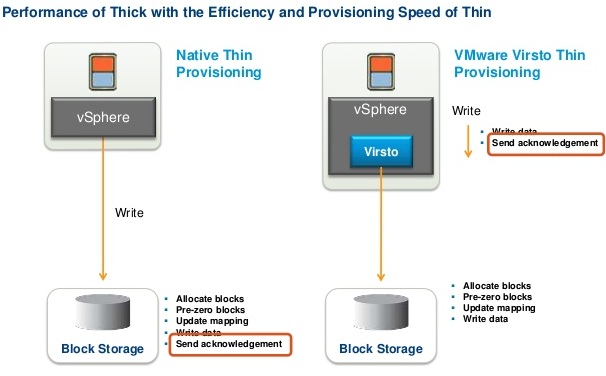 VSAN:
VSAN aggregates the all the local disks and flash disk from different ESXi host and it makes  datastore with redundancy. VSAN eliminates the centralized storage like SAN & NAS.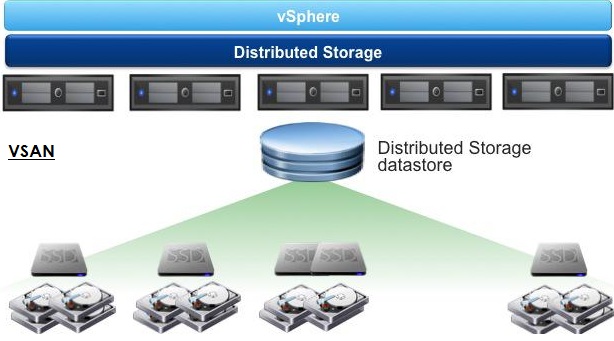 Conclusion:
VMware's software defined datacenter products and use.
Compute virtualization platform – VMware vSphere , vCloud Director (cloud)
Storage virtualization Platform – VSAN, VIRSTO, vCenter Flash cache Read , VVOL's
Network virtualization Platform – VMware NSX
Share it ! Comment it !! Be Sociable !!!