In IT infrastructure market, Cloud is the trending topic and technology from last few years. Most of the hardware vendors and operating systems developers have already started working to integrate the cloud technology on existing operating systems. For an example , oracle had integrated the openstack cloud software on their oracle Solaris operating systems.Let's have Q&A on cloud topic to understand the basic need of cloud computing.
What is cloud computing ? Why everybody is behind it

?

Cloud computing is the delivery on demand infrastructure which includes operating systems ,database,  applications and virtual datacenters over the internet on pay-for use basis. It reduces the total ownership costs compare to the traditional computing.For an example, If company is planning to start new online shopping portal , they need to buy servers , storage , networking components , database and application. Also they need to deploy these systems in highly available datacenters. They need to hire administrators  to build the servers ,deploying the database and application.This process will definitely  take minimum 3 to 4 months to make the portal live. Cloud computing simply eliminates all these back-end works and provides the infrastructure in few minutes .Based your requirement , you can opt IAAS , SAAS or PAAS .
Cloud Offerings:
IAAS :- Infrastructure as Service. It provides to the companies with computing resources including servers, networking, storage, and data center space on a pay-per-use basis. In other words , cloud end user will get virtual machine and they can install necessary software on it.
SAAS:-Software as Service. Cloud based application provides the service directly to the end user. Example: BMC company is offering SAAS for ITSM ticketing system portal where we just need to pay per user method. Companies needs to pay for number of users to SAAS provides if they want to opt ITSM on cloud.
PAAS:Platform as a service. It offers cloud based environment from end to end that  required to support the complete life cycle of building and delivering web-based  applications. You no need to buy or manage the underlying hardware, software, provisioning and hosting. Example: Website hosting on cloud.
What is VMware's vCloud

?

A vCloud is VMware's cloud solution product bundle which includes all the necessary software  to deliver the cloud computing. vCloud mainly focusing on IAAS (Infrastructure as service).The vCloud layer will build on top of VMware vSphere by extending the robust virtual infrastructure capabilities to facilitate delivery of infrastructure service via cloud computing without compromising the performance.
vCloud Components and Role on Cloud Computing: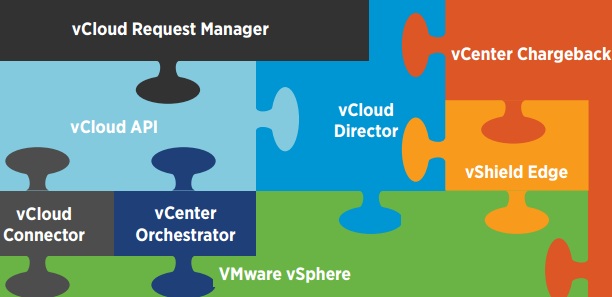 vCloud Components Role:
vCloud Component
 Description
VMware vCloud Director (vCD)
vCloud API
Cloud Coordinator and UI. Abstracts vSphere resources
Includes:
• vCloud Director Server(s) (also known as "cell")
• vCloud Director Database
• vCloud API, used to manage cloud objects
VMware vSphere
Underlying foundation of virtualized resources.
The vSphere family of products includes:
• vCenter Server and vCenter Server Database
• ESXi hosts, clustered by vCenter Server
• Management Assistant
VMware vShield
Provides network security services
Includes:
• vShield Manager (VSM) virtual appliance
• vShield Edge* virtual appliances, automatically deployed by vCloud Director
VMware vCenter Chargeback
Optional component that provides resource metering and reporting to facilitate resource howback/chargeback
Includes:
• vCenter Chargeback Server
• Chargeback Data Collector
• vCloud Data Collector
• VSM Data Collector
VMware vCenter Orchestrator
Optional component that facilitates orchestration at the vCloud API  and vSphere levels.
VMware vCloud Request Manager
Optional component that provides provisioning request and approval  workflows, software license tracking, and policy-based cloud  partitioning
VMware vCloud Connector
Optional component to facilitate transfer of a powered-off vApp in OVF format from a local vCloud or vSphere to a remote vCloud
How vCloud works

 ?

Have a look at the below image closely.  To setup the vCloud, you need to install VMware ESXi hypervisor on servers and configure VMware vCenter Server. This layer will be your typical VMware vSphere setup. Once you made this setup ready , then you need to deploy VMware vCloud director (Will be replaced by vCloud Automation soon) and VMware vShield for network security. The vCloud director directly talks to VMware vCenter for any new VM provisioning and creating the virtual datacenter. These virtual datacenters and VM access will be given to the cloud end user based on the requirement.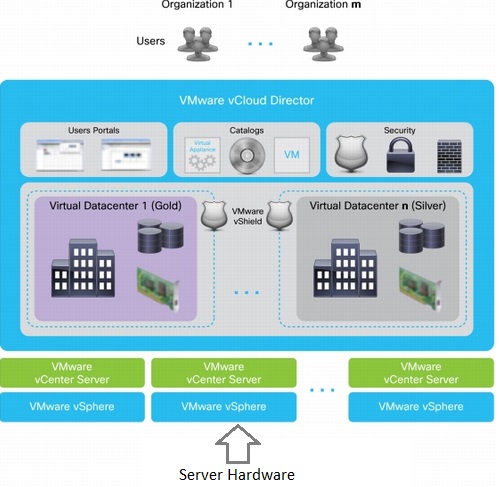 How vCloud can provide different level of service to the end user ?
We need to go one more level deeper than above image to understand the vCloud setup.In vCloud , we can create a number of virtual datacenter based on service level.
Example:
Provider virtual DC GOLD –  Gold SAN storage and high availability computing nodes.(vMotion + DRS + HA)
Provider virtual DC SILVER-  Silver SAN storage and high availability computing nodes.(vMotion + HA)
Provider virtual DC Bronze –  Bronze SAN storage and without high availability for computing.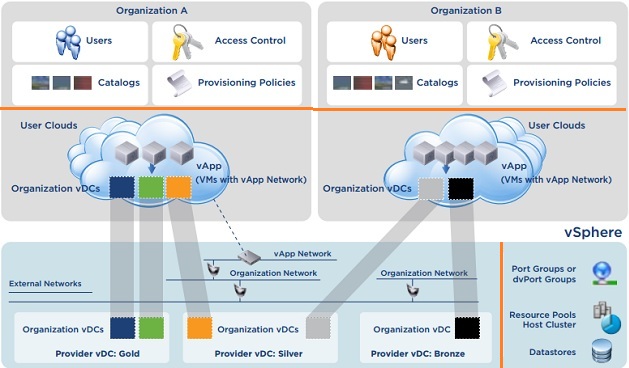 Provider = Cloud service offering company
organization = An association of related end consumers.
We will be just giving access to the Organization's virtual datacenters to the end consumers. Cloud offering company will allot some set of resources to the organization based on the requirement.  For an example, one organization may need different level of service resources like below and it is possible to provide using VMware vCloud.
GOLD  – 1TB Storage  200oGHZ CPU  100GB Memory
SILVER  – 512GB Storage  100oGHZ CPU  50GB Memory
Image Source: www.VMware.com
Thank you for visiting UnixArena.