In this VMware vCloud Director article series, this article is going to demonstrate that how to attach the vCloud director to VMware vCenter Server and how to create a provider virtual Data-center. vCloud director can't manage the system resources or virtual resources directly.It requires VMware vCenter server in the back-end to get the required  resources using vCloud API. Once you have setup the below prerequisite, you can attach the VMware vCenter server to vCloud director.
Prerequisite:
For learning purpose , i had setup the vCloud Director and VMware vSphere on VMware workstation. Physical serves will be used for production VMware vSphere environment .
Here is my LAB setup model – VMware vCloud Director .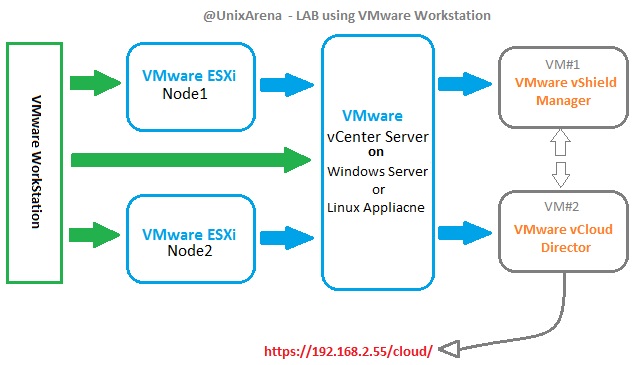 vCloud Director logical terms:
vCloud Director Construct

Description

Provider Virtual Datacenter
Logical grouping of vSphere compute resources (attached vSphere cluster and one or more datastores) for the purposes of providing cloud resources to consumers
External Network
A network that connects to the outside using an existing vSphere network port group.
Network Pool
A set of pre-allocated networks that vCloud Director can draw upon as needed to create private networks  and NAT-routed networks.
Organization
A unit of administration that represents a logical collection of users, groups, and computing resources, and also serves as a security boundary from which only users of a particular organization can deploy workloads and have visibility into such workloads in the cloud.In the simplest term, an organization = an association of related end consumers.
Organization Virtual Datacenter
Subset allocation of a provider virtual datacenter's  resources assigned to an organization, backed by a vCenter resource pool automatically created by vCloud Director. An organization virtual datacenter allocates resources using one of three models:
•Pay as you go
•Reservation
•Allocation
Organization Network
A network visible within an organization. It can be an external organization network with connectivity to an external network, and use a direct or routed connection, or it can be an internal network visible only to vApps within the organization.
Attach a vCenter Server to vCloud Director:
1. Access the vCloud director portal  and click on home.Here we are just going to follow the "Quick Setup" to provide private cloud to the customers. Click on "Attach a vCenter "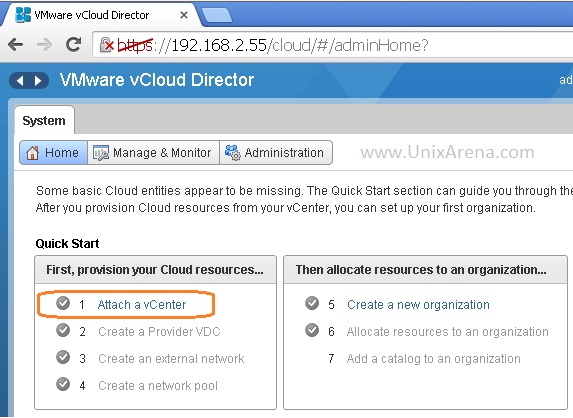 2.Enter the vCenter Server IP address/Hostname and super user credentials .Click on next to continue.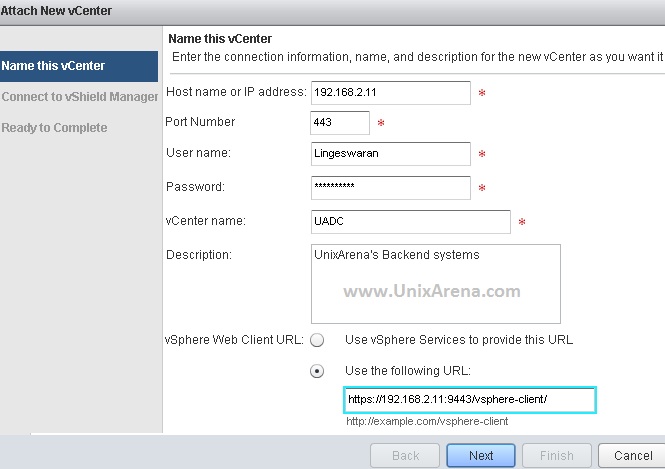 3.Enter the VMware vShield Manager IP/hostname and admin credentials.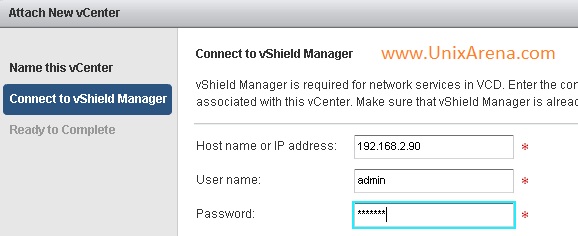 4. Click Finish to complete the wizard.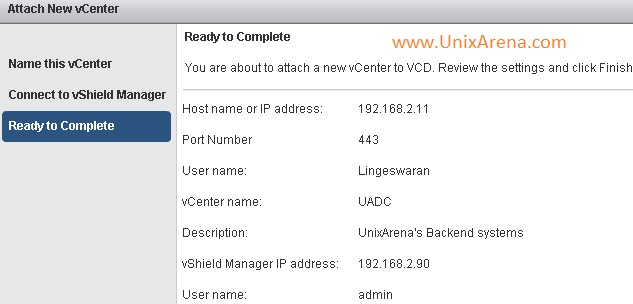 5.Once the vCenter server is attached , you will be getting "green ticket mark"  in quick setup like below .You can see the attached vCenter server resources in Manager & monitor tab .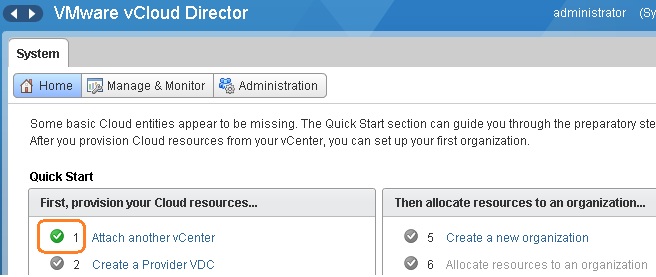 Quick setup just guides that what needs to be done next.  Now we need to create a provider VDC.
Create a Provider vDC:
We need to create a "provider virtual data center" based on the service level. (Ex: Gold vDC , Silver vDC ). Cloud service provider will be managing the "Provider vDC" and cloud end users won't get access to this virtual datacenter. Let's see how we can create the Provider vDC.
1. Click on the "Create a Provider vDC"  to create new virtual datacenter.
2.Name this provider vDC . (Ex: GOLD vDC)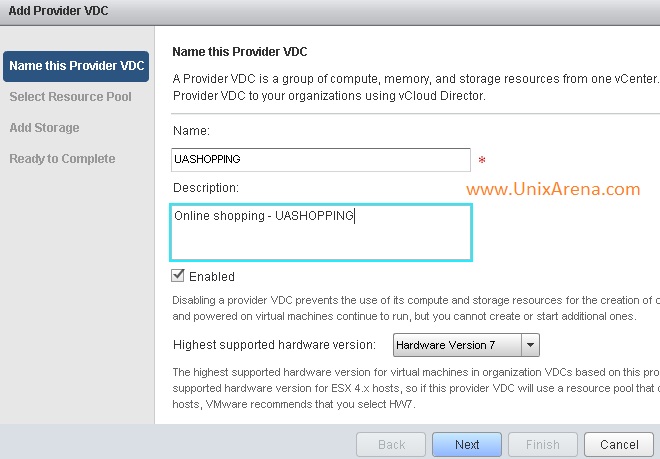 3.Select the vCenter's datacenter and resource pools.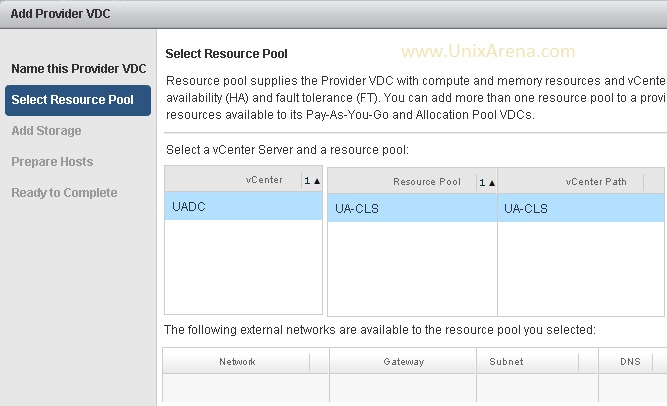 4.Select the storage polices for this virtual datacenter.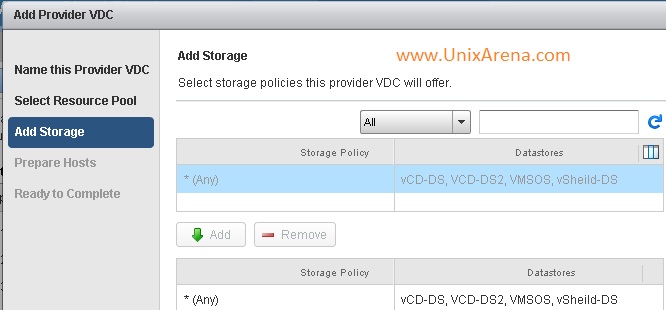 5.Prepare the ESXi hosts for vCloud Director. If the root user password is same for both the nodes, you can select like below .Otherwise , you need to enter for each host.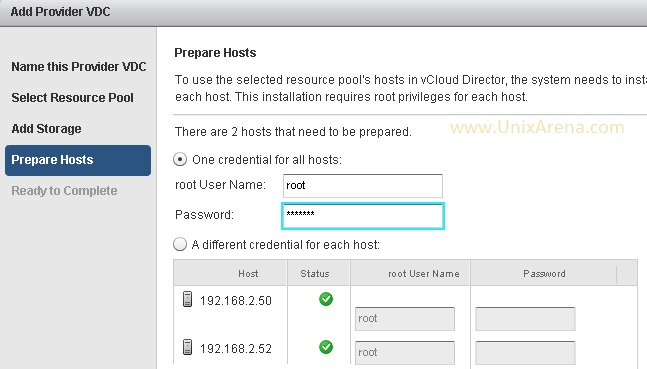 6.Click Finish the complete the wizard.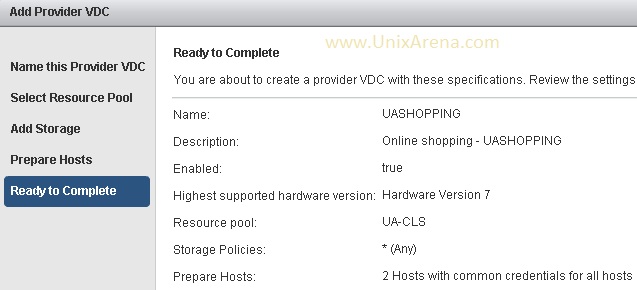 7.Once the Provider vDC is created, you can see the indication in Quick Setup .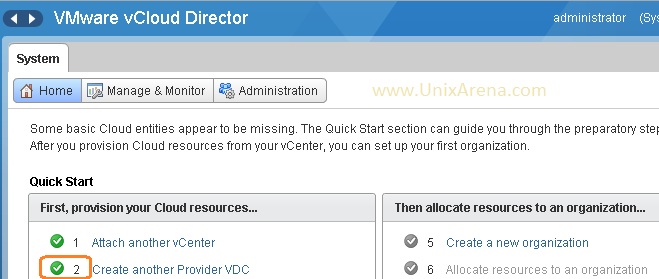 Attach a vCenter  – Completed 
Create a Provider vDC – Completed 
Create an external network
Create a network pool
Create a new organization
Allocate the resources to an organization
Add a Catalog to an organization
We will see the rest of quick setup in the next article . Thank you for visiting UnixArena.