Getting opportunity to work on cluster environment is very difficult on big companies due to security problem. If you get opportunity also you can't play much on it  since most of the cluster environments will be critical to the client. To learn any operating system cluster, you have to build it  by your own  and  configuring the resource groups and resources yourself. You will be lucky if your organization provides the LAB environment with necessary hardwares for these kind of setup. Due to hardware cost, many companies are not providing the such LAB setup . So how to become master on cluster ? Will it be possible to setup cluster environment on single Desktop/Laptop ? Yes. Using VMware workstation, you can setup cluster. In the past we have seen for veritas cluster. Here we will see how to setup two Solaris cluster on Solaris 10 using VMware workstation .
Desktop/Laptop Configuration:
Operating System: windows 7  64 Bit or Linux 64 Bit
Software: VMware workstation 8 or higher version
Physical Memory : 4GB (Minimum)  or 8 GB (Recommended )
Processor : Any intel processor with VT technology enabled.
1. In your desktop, install VMware workstation software and create two virtual machines with below mentioned configuration.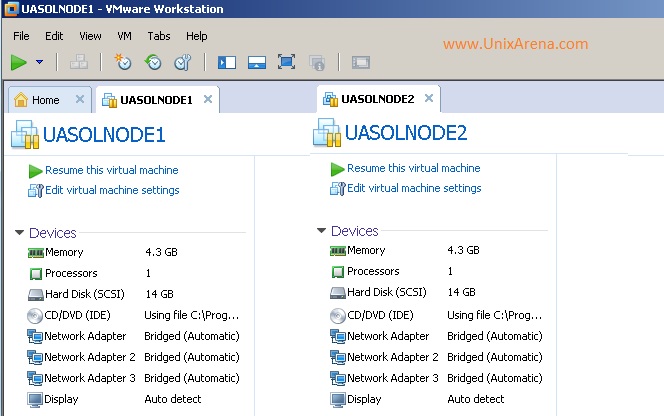 I have allocated 4.3Gb to each VM but assigning 1 GB is enough for each virtual machine. Your virtual machines must have minimum three network adapter . One NIC for public and two NICs for heartbeat.
2.Install Solaris 10 update 11 on both the virtual machines.  
3.Install VMware tools on both the virtual machines.
4.Enable the Windows share on both the virtual machine for copying Solaris cluster software from your laptop to virtual machine.Copy the Solaris cluster 3.3 u2 to /var/tmp on both the nodes.  Otherwise use winscp to copy it.
5.Configure password less authentication between two Solaris virtual machines.
6.Install the Solaris cluster on both virtual machine .
7.Configure the Solaris cluster between these two virtual machines.
8.To proceed further on soalris cluster, you require shared storage. So create a new virtual machine and install openfiler on it.
9. Provision two LUNs to ISCSI target on openfiler web-interface. (512MB Lun for Quorum and 3Gb LUN for shared Zpool)
10.Add the openfiler ISCSI targets in both the solaris nodes.
11.Add the Quorum device to the cluster.
12.Create the Solaris cluster resource group and add the ZFS storage pools as resource. 
13.Finally create the local zone and add it in to Solaris cluster for failover local zone or high availability local zone using Solaris cluster.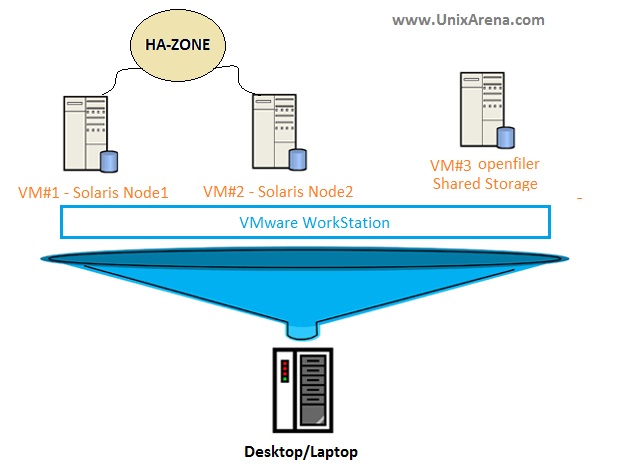 By performing above steps , definitely  you can setup Two node Solaris cluster on Desktop/Laptop using VMware workstation.
Good Luck.
Share it ! Comment it !! Be Sociable !!!