You can't successfully deploy any software product in the first shot. I have successfully deployed VSAN in my third attempt . It also differs to person to person and their knowledge but some people will never complete it .Here i would to share the issues what i have faced during the deployment.First thing that, I haven't tired in real hardware.I have created three ESXi virtual hosts on VMware workstation along with Windows 2008 server VM for vCenter host. Here i would like to list the challenges what i have faced it.
VSAN Diskgroup creation  failed due to license issue:
I have didn't read the VMware white paper for VSAN properly. I though normal ESXi license and vCenter License will for VSAN setup. But it not. VSAN requires separate license. I was able to create a VMkernel link for VSAN network and able to enable the service. But while creating the VSAN diskgroup or claiming the disks for VSAN, i got the message saying that VSAN is not licensed on this host.
Here i am trying to create a VSAN diskgroup,(Refer: How to create VSAN diskgroup)

VSAN diskgroup creation
I got the below error saying that "Operation Failed,Diagnostics report:Can not add disk: VSAN is not licensed on this host"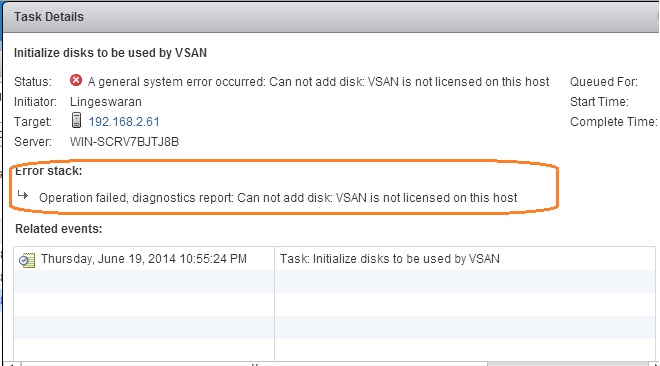 Navigate to VSAN licensing link and check the assigned license keys.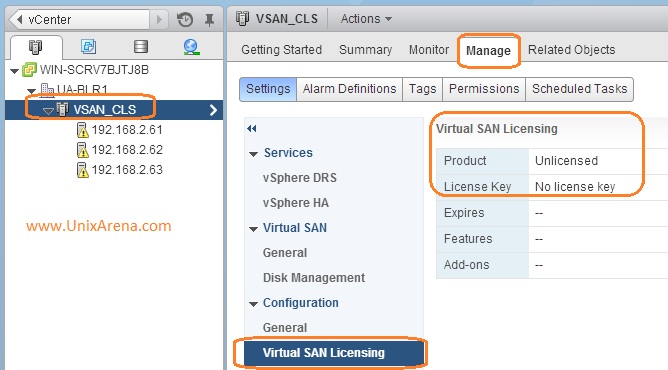 You have to assign the VSAN license to use VSAN feature.  How to assign it ?
In the above image, you will get an option to assign a new VSAN license key,If you click you will get a pop-window to add the keys.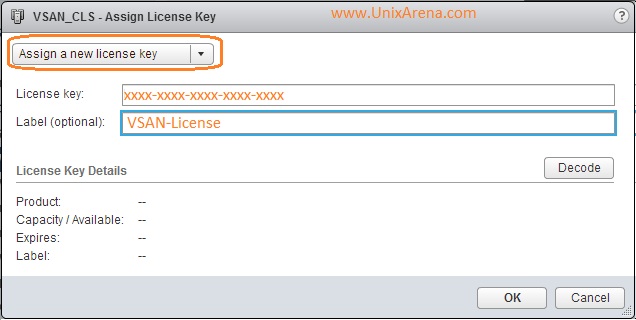 Once you have added, you can see the license validity like below.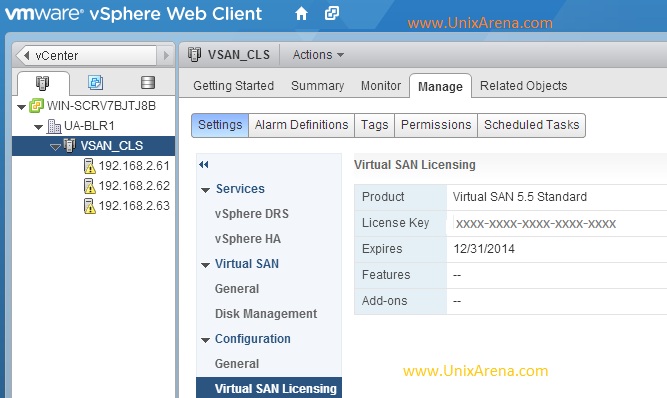 What to do if you don't have the valid VSAN license keys for your testing ? Are your searching for free license keys ? Trying for crack ?
There is no free licensing or crack exists for any VMware products and you no need to do that. VMware offers 60 days trail for all their products. What you can do , just download the trial version of vSphere products from vmware website and deploy it .
As a third option, You can also perform the VSAN LAB using VMWARE Hands on LAB .This is absolutely free.
System failed to create VSAN diskgroup with LSOM errors:
When i tried to claim the disks for VSAN or tried to create diskgroup, system through's errors that " Operation Failed,Diagnostics report: Unable to create LSOM filesystem for VSAN disk mpx:vmhba1:C0:T1:L0.Please see VMkernel log for more details" . But it creates a diskgroup on all the hosts but doesn't shows the datastore size.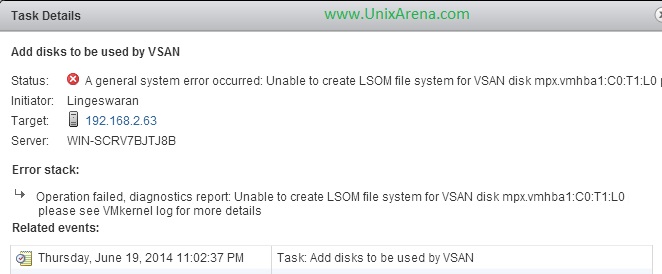 How to overcome this issue ? I have checked in VMkernel log file and not able to find any issues.
Finally i have fixed the issue by increasing the ESXi hosts memory in VMware workstation. If you have installed ESXi on real hardware systems, then you won't encounter such an issue  since servers physical memory in 100 Of GB's or in TB's
VSAN Diskgroup creation failed due to insufficient memory:
I thought of creating VSAN diskgroup with 2 magnetic disks and one SSD .When i tried to create , i was getting error "A general system error occurred:Failed to create new disk group. Operation will exceed the maximum amount of  magnetic disks allowed (1) for the current amount of memory (4 GB).Please add more memory."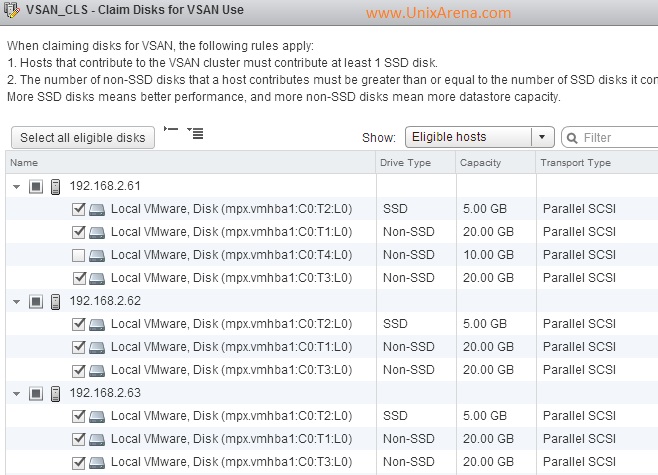 So if the ESXi host is having 4GB physical memory, then  you we can add only one magnetic disk.I have just added only disk and used it for testing.If you want to add more, then increase the physical memory of ESXi hosts accordningly.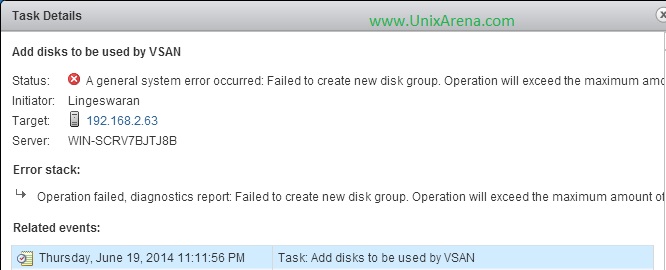 If you faced any similar errors on VSAN , just add it in comments. If you add it with solution that would be use full for the readers.
Hope this article is informative to you .
Share it ! Comment it !! Be Sociable !!!