Now a days Linux based hypervisors are ruling the datacenters around the world . VMware vSphere and Oracle VM for x86 are two major players in this hypervisor market today. So i would like to compare these products to make the system architect clear about how each prodcut can compete each other. This article is  based my experience and  not to create fake impression on any of these products.
VMware vSphere vs Oracle VM for X86:  Equivalent Products:
| | | |
| --- | --- | --- |
| Vendor | VMware | Oracle |
| Hypervisor | VMware ESXi | Oracle VM Server  (OVS) |
| Centralized Manager | VMware vCenter Server | Oracle VM Manager (OVM) |
| Client | VMware  vSphere Client |              NA |
VMware vSphere:Overview
VMware vSphere is software bundle which includes VMware ESXi Hypervisor , VMware vCenter Server and vSphere Client.VMware hypervisor needs to be installed on actual physical servers. VMware vCenter can be installed on Windows server operating systems to manage the complete VMware infrastructure.  You can also use the vCenter appliance instead of using windows based vcenter server and it can be download from VMware website.Prior to VMware vSphere 5.1, webclient was not supported and you need to use VMware vSphere client to connect to vCenter server.Webclient is available from 5.1 and you can manage the vSphere environment from web. This is product is not free.You need to pay for product and support.It also has variours licensing to utlize all the feautres of it.
Let's see how the infrastructure looks on VMware vSphere environment.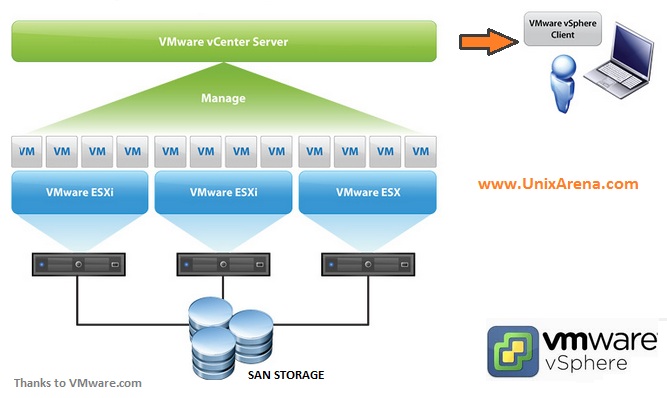 VMware has more market shares than any other hypervisor in today's date. 
Oracle VM for X86 :Overview
Oracle VM for x86 is Xen based hypervisor. You have to install the Oracle VM server (OVS) hypervisor on physical machine and Oracle VM manager need to be installed on oracle enterprise linux .  You need to access the OVM manager through web using https. There is no client available unlike VMware vSphere to connect the OVM server or OVS server. Since this product product from oracle ,they are tightly integrating the oracle database, oracle middlewares and RAC to support OVS hypervisors. This product is completely free to download and use. However you need to pay for support but less than VMware support price. So TOC is very less compare to VMware.
Ler see how oracle VM for X86 architecture looks.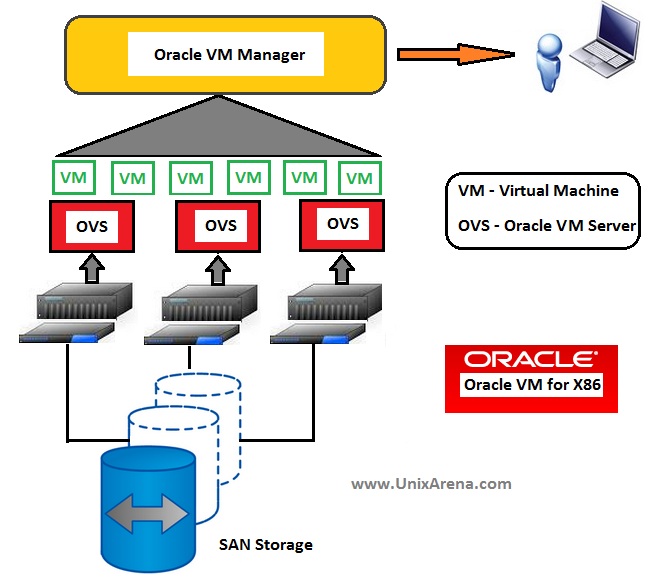 Here is the features comparison of both the products based my experience.
| | | |
| --- | --- | --- |
| Points  to Note | VMware vSphere | Oracle VM for X86 |
| Possible to manage over web? | Yes. From 5.1 onwards | Yes |
| Easy to manage from Manager console? | Yes | No. The web page is quite complex to  manage |
| Physical Memory supported per guest (VM) | 1TB | 2TB |
| No of vCPU  supported on guest(VM) | 64 (vSphere 5.1) | 128 |
| Maximum VM Disk size | 62TB | 10TB |
| Possible to add multiple LUNS to storage Repository? | Yes. | No. You have to use single LUN for each repository |
| Is it possible to run multiple clones at same time ? | Yes | No. It fails when you initiate second clone |
| Product is free to download and use ? | No. | Yes |
| Licensing | Complex | Easy |
| Integrated support | Need to contact various vendors | Since DB, Middleware from oracle, You just need to deal with oracle in most of the cases. |
| Possible to browse the directory from web page to upload files ? | Yes. Easy to upload files to datastores | You need to use http or ftp link to upload the files |
| Networking | Easy to configure and use. | Complex. |
| Bugs? | Less, Compare to OVM. | More, compare to VMware. |
| Guests OS supported | 88 Guest operating systems supported | 13 Guests operating systems supported |
| ESXi/VM Monitoring | VMware is the best and we can get nice graphs | Oracle VM doesn't have such cool monitoring within it |
| Linux command will work? | No. | Yes. |
| Is it possible to create a multiple users on Manager? | Yes. You can even provide the role accounts. | No. You have to use single user account to manage everything. |
| Is it possible to do SAN Live migration? | Yes | No. |
| Distributed resource scheduler? | Its works for CPU, Memory, Storage load | Its works for CPU and network |
| Distributed power management? | Yes. | Yes |
Both the products uses their own virtualization aware  cluster  filesystem. VMware uses VMFS and Oracle VM uses OCFS2. Since Oracle VM is using the Linux Xen virtualization, so Linux based guest OS are faster than in VMware vSphere environment.
Conclusion: 
Both VMware vsphere and Oracle VM has its own advantages and disadvantages. But VMware has edge with wonderful Manager web-console and   ultimate storage and networking features.OVM may not have nice web interface as VMware but oracle is compensating with support price and amazing offers.I have see some of the customers are using both the products and OVM is exclusively used for oracle enterprise Linux with oracle database. Oracle VM manager can also be integrated with oracle VM for SPARC(LDOM). SPARC architecture supports only oracle solaris  operating system.
So its up to the customers that what products they want to use it. If they want to reduce the total ownership cost, then can for Oracle VM .If you are looking for robust features and easy administrative manager console , then you have to choose VMware.
Please share your opinion about these products and that will be helpful for the readers.
Share it ! Comment it !! Be Sociable !!!