Virtual appliance will be normally  available on OVA format which is bundle of OVF(open virtualization format) and VMDK files. If you directly deploy OVA files from vCenter Client , it will fail 99% of times. So better you need to extract the OVA files as OVF or need to convert as VMX format to deploy the appliances on vCenter client or Vmware web-client .VMware offer free OVF converter tool which will help you to extract a OVA format files and to convert as VMX files.
Here you can download the VMware Open virtualization format tool and it't free. Just sign up required on VMware.
1.Once you have downloaded the VMware OVF tool, just install it .(Its typical Windows exe. )
2.After the VMware OVF tool installation, open the command prompt. start – > Run – > cmd
3.Navigate to the VMware OVF installed location.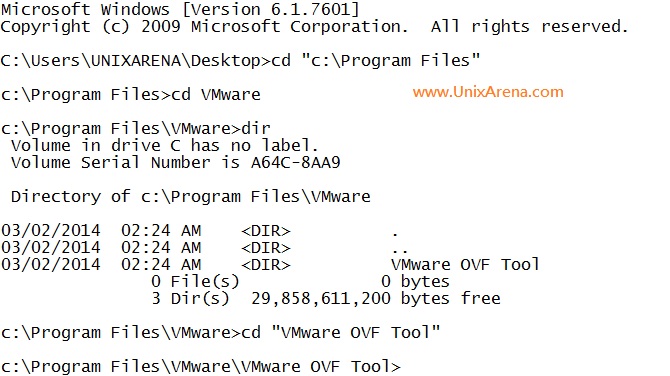 4.For your information , I have kept the OVA file on the below location.

5.Go the command line and execute the below command to extract OVA file as OVF and VMDK files. (OVA to OVF conversion)

The extraction failed because the OVA file is not downloaded properly.That's why ,the conversion stopped at 67%.
The below one shows the successful extraction of OVA file

You can also extract the ova file using tar command . (# tar -xvf VOVA_HAVANA.ova). After the extraction of OVA files,you will get below files.

OVF MF and VMDK files
You can convert the OVF file as VMX using the similar command.

We have successfully converted OVA files to OVF and OVF to VMX .
Check out below articles as well.
Thank you for visiting UnixArena.